Bert's Birthday Party
(First Photo) Blueberry Festival mascot Blueberry Bert (centre) is joined by friends Sparky the Fire Dog (left) and Smokey Bear (right) as he celebrates his 40th birthday on July 30.
(Second Photo) Blueberry Festival volunteers handed out birthday cupcakes to birthday guests.
(Third Photo) Twenty-one-month-old Paisley Cospito enjoys her cupcake at the birthday party.
(Fourth Photo) Kalvin Desforges and mom Sarah Desforges pose for a photo with Blueberry Bert.
(Fifth Photo) Dan Fraser added his musical talents to the birthday celebration.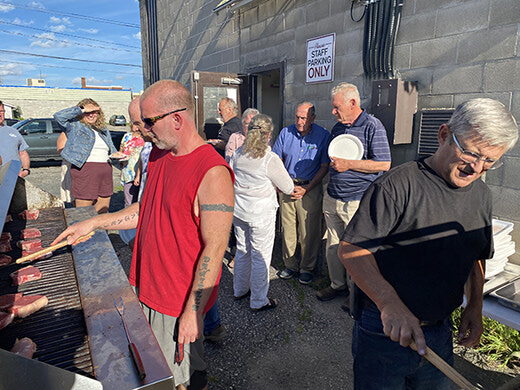 Tuesday, August 9, 2022
Edwin Switzer Memorial, Royal Canadian Legion Branch 78 President Kirk Drew and member Leslie West cook steaks for a hungry crowd during a Legion Steak Fry Night on July 29.