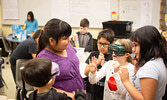 School News
Kids get interactive during SMPS STEAM Day
Science, Technology, Engineering, Art/Design and Mathematics (STEAM) were on the minds of students at Sioux Mountain Public School in Sioux Lookout on Thursday, February 7th, 2019. Organizations around Sioux Lookout came together to provide interactive, hands-on learning for the entire day. The day was funded through a CanCode grant through the Information and Communication Technology Council (ICTC), organized by Katie Burch (Technology Educator) and sponsored by Bearskin Airlines, Science North, Connected North, Kwayaciiwin Education Resource Centre (KERC), Keewaytinook Okimakanak Board of Education (KOBE), Fresh Market Foods, Pelican Lake Sandwich Company and the Sioux Lookout Public Library. It was the pleasure of Bearskin Airlines to provide complimentary transportation for the science experts David, Beatrice, and Naim from Science North (Thunder Bay Division).
Beatrice, David, and Naim (Science North) guided students through explorations using LEGO WeDo robotics, EZ Robotics, MBots, Senses, Robots with Cubelets, and Cryptography/Code Breaking challenges. These programs were designed with the student at the centre, making computer programming interactive and fun. The facilitators guided the learning following the 4 C's processes - Connect to a story, Construct a model, Contemplate its function and Continue improving its design.
Lyle Johnson (KOBE) demonstrated simple block coding using The Hour of Code www.hourofcode.com with middle school students. The hour of code website is designed to demystify "code" to show that anybody can learn the basics of computer programming. Coding is not only fun but also boosts problem-solving and logic skills which are transferable to any subject area.
Connected North donated six sessions using high definition video conferencing technology. Students were virtually transported all over North America. They engaged in topics such as Creatures with Wings and Crawly Things from the Royal Botanical Gardens; Cells, A Really Close Look at How Life Works from the Cleveland Museum of Natural History; Sheep Eyeball Dissection from the Ann Arbour Hands on Museum; and Tropical Rainforest by the Centre for Puppetry Arts (facilitated by Barb Matousek from KOBE).
The Sioux Lookout Public Library's Mike Laverty shared his computer programming expertise and sense of fun by teaching students to program a rock, paper, scissors game on the pocket-sized computer called the BBC Micro: bit. The Micro: bit is a programmable micro-computer that can be programmed like a robot, step-counter; the possibilities are endless.
KERC's Gabby and Alex prepared sessions for students with a focus on the A in STEAM. Gabby, a graphic designer, showed students the illustration process from start to finish using Chromebooks and various digital illustration technologies. Alex introduced 3D design technology called Tynker where students could create 3D models on their Chromebooks and then send them to print.
Comments from the teachers throughout the day were positive saying that they enjoyed all of the sessions and conversations with the various presenters. It was apparent from the pictures (thanks to Brent Wesley from KERC), and the smiles on the faces of the children, the day was a tremendous success. Thanks to all of the partners for coming together for the students of Keewatin-Patricia District School Board where it was apparent that students came first!
Katie Burch,
Technology Educator