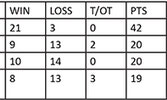 Community Corner:
Pelican Falls Timberwolves Sioux Lookout Hockey League playoff champs
Like everyone, 2020/2021 has proven to be a challenge for our league. Our entire organization from volunteers, team captains, our employed timekeepers and on-ice officials have skated forward through this pandemic as best we could, and we are immensely thankful to those who committed their time to help our league operate, when most others in our region didn't. We are also thankful that we were able to plan, to an extent, for the post-Christmas lockdown from the Ontario government, which allowed us to play an entire 24-game regular season for all of our teams. Unfortunately our playoffs were cut short due to the Red Zone designation effective on March 15.
Playoff results:
2v3 Sioux Mountain Realty and Slate Falls Air Otters: Sioux Mountain Realty won 12-5.
1v4 Pelican Falls Timberwolves and Sasquatch: Pelican Falls Timberwolves won 3-2 in overtime.
Championship:
Pelican Falls Timberwolves 6 - Sioux Mountain Realty 4.
Submitted by the Sioux Lookout Hockey League