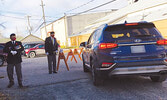 Beef on a bun Legion fundraiser a sellout
Tim Brody - Editor
Thanks to the support of the community, a beef on a bun fundraiser for the Edwin Switzer Memorial Legion Branch 78 on Remembrance Day sold out early.
Following the Remembrance Day service in Sioux Lookout each year, members of the Legion Ladies Auxiliary have prepared a beef on a bun lunch.
Members of the Legion Ladies Auxiliary invited the community to drive by the Legion's back alley entrance on Remembrance Day, where they, assisted by some of the men from the Legion, served up a beef on a bun drive-thru lunch, which sold out in under an hour.
More than $5000 was collected through the fundraiser.
"I really want to thank the community for their support," said Legion Ladies Auxiliary President Charron Sippola. "I kind of had a feeling the community would support the Legion."
Assisting with the beef on a bun fundraiser were Sippola, Sandra Lockhart, Kirk Drew, David Williams, John Cole, Marion Serson, Vera Kameda-Lacroix, Colleen Carroll and Nicole Bradley.