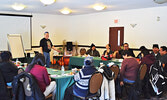 Workshop teaches the importance of laughter
Jesse Bonello - Staff Writer
It's been said that laughter is the best medicine, and participants at the Living Well Through Laughter workshop had the opportunity to learn the science of laughter and how laughter heals.
Approximately 15 participants took part in the workshop, which was sponsored by Equay-wuk, on Jan. 8 and 9 at the Sunset Suites conference room. The workshop was facilitated by stand-up comedian, and former social worker and addictions counsellor, Ron Kanutski. He said the main goal of the workshop is to build self-confidence while also looking at the science of laughter.
"The main focus that I'm trying to do is build self-worth and self-esteem while encouraging healthy wellness and healthy development. In doing that we're going to go through looking at humor and laughter. We're also going to be looking at the science of it, what drives it, where it comes from, and how laughter impacts us socially. It can be based on our ethnicity, our upbringings, traumas and things that we've been through, and how that effects what we see as funny and what we find as humorous. We're kind of looking at all aspects of laughter, but also looking at the importance of it and how it's used for healing," said Kanutski.
"The other part is to help people find another active way to help themselves in their healing. There might be people in the room who have come to be comedians or they might want to learn what's involved in it, and we're going to give them that opportunity as well, but the biggest piece is to lift peoples' self-awareness and their self-development," he added.
Some of the topics covered over the course of the workshop included the history of laughter, the science of laughter, finding your voice, lifting self-esteem, and how laughter heals.
Participants said the workshop was a fun learning experience filled with new information.
"I've been really enjoying it because I didn't realize how many ways people use laughter. Laughter is the best medicine, and it is true. You need to laugh, I love laughing, and it connects you with other people, especially when you share a funny moment together. It can help break the ice," said Carrie Quoquat.
"Laughter, in our tradition, is medicine, and that's pretty much what I came for as well as my own self-healing and learning so I can be a better father, better person, and better worker," said Chris Southwind.
"I've learned so much already, and I've been connecting with other people as well. It's kind of like a family activity that everyone's enjoying. It's great, and I love it," he said.
Equay-wuk Executive Director Darlene Angeconeb said the goal of hosting the workshop was to help people deal with grief and sadness while building self-esteem.
"We have a lot of grief we have to deal with. There's a lot of things like suicides, sickness, diabetes, and cancer, so there's a lot of sadness going on… This is also building up self-esteem and being able to get up in front of people, and hopefully the laughter will help. That's why we decided to have it because it's part of our mental health," said Angeconeb.
For more information on Ron Kanutski visit ronkanutski.com.