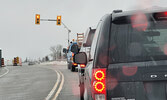 Work resumes on Ed Ariano Bypass
Mike Lawrence - Staff Writer
It's back to one lane on the Ed Ariano Bypass as work continues which was started in September of 2021. That work is set to be completed in early summer.
Landform Civil Infrastructures Inc (LCI) has resumed the work it started last summer, which includes installing new barrier walls, completing some minor concrete repair, and adding new waterproofing and pavement. As the construction is staged, temporary traffic signals are being used to allow a single lane of alternating traffic through the site. As reported last year, the Ministry of Transportation (MTO) awarded LCI the contract for $2,157,000 in August of 2021. Signs reminding motorists of the work resumption began appearing along Highway 72 in March.
An email received from the MTO on April 21 notes that, "The installation of temporary construction barriers and traffic lights began on Monday, April 19th, 2022. The bridge will now be down to a single lane controlled by temporary traffic lights. Over the next couple of months, the barrier wall and bridge deck will be rehabilitated with new waterproofing and paving, both on the bridge and approaches. The completion date for the project is expected by the end of June 2022."
MTO would like to remind motorists to exercise caution when driving through construction zones. Fines for speeding are doubled in a construction zone where workers are present. People are also asked to monitor all signage as it can provide essential information concerning the work ahead.
Tuesday, April 26, 2022
A major donation of sports equipment is bringing the hockey dreams of one First Nation community a little bit closer to reality...