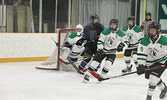 Warriors boys hockey team wraps up season
The Sioux North High School Warriors boys hockey team was defeated 4-1 by the Beaver Brae Secondary School Broncos in game three of their best of three playoff semi-final series on Feb. 27 in Kenora.
The Broncos took the series two games to one to advance to the final, having also defeated the Warriors 4-1 on Feb. 26 in Sioux Lookout. The Warriors won game one of the series 5-3 in Kenora on Feb. 23.
Tuesday, March 7, 2023
The Municipality of Sioux Lookout will receive $50,091 as its 2022-23 Gas Tax allocation from the Provincial Government...