Warriors boys hockey team make playoff run
Tim Brody - Editor
The Sioux North High School Warriors boys hockey team went into game three of their best of three playoff semi-final series against the Beaver Brae Secondary School Broncos with the series tied at one win apiece.
The Warriors beat the Broncos 5-3 in game one of the series on Feb. 23 in Kenora. The Broncos took game two of the series 4-1 in Sioux Lookout last Sunday evening. Game three was played on Monday afternoon in Kenora.
Head Coach John Carnochan shared after Sunday nights game, "Our kids have been playing some good hockey at home here, and I think just this being a playoff game, won the first one away, lots of emotion, and I think it effected the boys a little bit and they came out a little flat and they expected, I think, that they were going to win this game."
"The boys are going to have to regroup quickly and be ready to play some hockey and maybe playing outside the barn will help them," he added as the team looked ahead to game three of the series.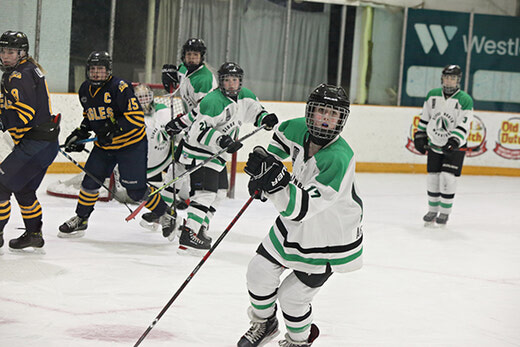 Tuesday, February 28, 2023
The Sioux North High School Warriors girls hockey team's season has come to a close.,,