Warriors girls hockey team wraps up season with loss to Eagles
Tim Brody - Editor
The Sioux North High School Warriors girls hockey team's season has come to a close.
The team fell to the Dryden High School Eagles 3-1 on Feb. 23 in Dryden, with the Eagles going on to win the best of three semi-final playoff series 5-1 on Feb. 25 in Sioux Lookout.
Coach Jason Murphy shared after the game, "I thought over the two games in the playoffs the girls had a really gutsy performance. We had a short bench - injuries, and players away. The girls that were here, they battled hard. We battled hard in Dryden in game one and came up a little bit short and then they battled hard tonight, down to just 10 players on the bench, two lines to finish the game, but they played right to the end. All you can ask for as a coach from your players is everything they've got and that's what the girls gave us tonight."
Looking back on the season he said, "We went into September tryouts. We're always kind of behind the eight-ball a bit compared to the other teams with numbers and the experience level of some of the players. Our goal as a coaching staff with the team was just to build the team, get better every game, with the plan to peak at the playoffs and give our best performance at the playoffs and I think we're certainly a better team today than we were back in September. I think the girls individually have all improved and have come together as a team and of course this group has gone through quite a bit of adversity over the last couple of years, the core group. They're a strong bunch, a close-knit group, and you know we've had our ups and downs and had some highlights and some lowlights for sure, but I can't say enough, I'm proud of this group of young ladies for sure."
"I just want to say thanks to everybody that came out and supported the girls, supported the coaching staff, supported the team. As I said, the team, we've had some ups and downs, some adversity to go through, and the support from the community and the parents and the fans, it's been great," Murphy concluded.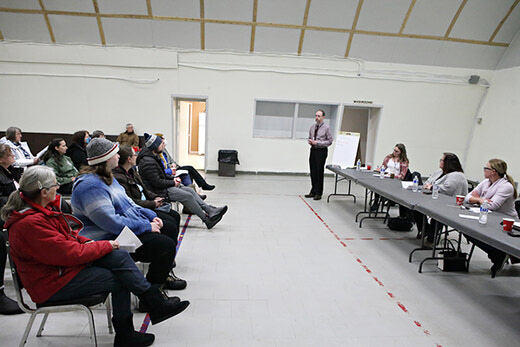 Tuesday, February 21, 2023
Residents of Hudson were invited to provide feedback to Municipal representatives on the future of the Lost Lake Drop-In Centre and the possibility of having Hub Transit service in Hudson...