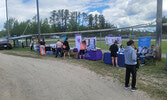 VAAC attracts crowds with barbecue, informational booths
Mike Lawrence - Staff Writer
The Sioux Lookout Violence Action and Awareness Committee (VAAC) hosted their final event before summer with an outdoor barbecue on June 6 at the Sioux Lookout Baseball Diamonds. With booths set up representing several area support organizations, the location close to Sioux North High School wasn't just coincidence.
As Geneva Sainnawap, Ah-shawah-bin Victim Support Services Executive Director, explained, "Our main goal would be to promote awareness of the crimes that are happening in our community, mainly sexual assault and human trafficking. We are trying to get that information out there, to provide awareness and education. Our main target setting up here is the high school students, before school ends, to bring that awareness to the youth. And its kind of like our year end closing event, so that's why we decided to do an outdoor event to try to attract as many people as possible."
The Sioux Lookout Violence Action and Awareness Committee is made up of St. Andrew's United Church, Ontario Native Women's Association, Northwestern Health Unit, Nishnawbe-Gamik Friendship Centre, First Step Women's Shelter, Sunset Women's Aboriginal Circle and Ah-shawah-bin Victim Support Services.
Taking in the line of booths set up in the area, Sainnawap continued "This is only a small fraction of the services that is available, otherwise this whole field would be full. We as a small group do this annually. Throughout the year we host several events. This is it for the summer, we usually take the summer as a break then resume in September with Take Back the Night and Orange Shirt Day activities."
The Nishnawbe-Gamik Friendship Centre (NGFC) was just one of the many organizations on hand to showcase their services. Ashely Edwards, Program Manager for NFGC noted, "As part of the VAAC committee, NGFC along with the other partners did our best to highlight what our organizations have to offer while also providing a fun and safe environment for our community members. This was the first "in person" large event that we have been a part of since 2019 and it felt so great to get back out there and remind our community that we are still here and ready to help."
Edwards was also pleased to see many high school students come out, continuing, "Many high school youth attended the event which was an important goal for us to achieve as they are the future, and we want to ensure that they feel supported and understand what we can do to help them be the best they can be. We also wanted to highlight human trafficking and justice programs, so they are informed and know what signs to look for and where to find help if needed"
In the end, Sainnawap estimated 250-300 people attended the event, noting that they served 240 food items, which were all gone before the event ended.