Take Pride Community Wide wraps up with some big winners
Mike Lawrence - Staff Writer
High water levels and wet weather didn't prevent several Sioux Lookout families and organizations from giving it their all for the Take Pride Community Wide garbage collection contest held by the Sioux Lookout Chamber of Commerce. The initiative encouraged area residents to clean up the community. Participants had the opportunity to win prizes based on who collected the most bags. The contest ran from May 15 through June 15.
According to Christine Hoey, Sioux Lookout Chamber of Commerce Past President and Treasurer, 179 bags of garbage were collected in total. First place went to Vanessa Abela and family, who with 50 bags collected, took home a $500 Fresh Market Foods gift card and a $50 pizza party from Chicken Chef, while second place with 37 bags collected went to Cathy Carpenter, who took home a $250 Fresh Market Foods gift card and a $50 pizza party from Chicken Chef.
Hoey acknowledged several area residents who put special effort into keeping the community clean throughout the year, stating that "(Karl) Friesen always cleans up the highway without anyone asking, and Susan and Bill Hochstedler are always cleaning up around town. Those for sure are always cleaning, that we know of."
This year also saw Sioux Lookout First Nations Health Authority getting involved, with Hoey noting, "They asked their staff members to collect a bag of garbage, either around their houses or around the businesses. I didn't get an exact number, but they were quite happy with the turnout. That was the first year they got involved."
Filled bags were left at the Travel Information Centre where they were then collected by the Municipality and taken to the dump.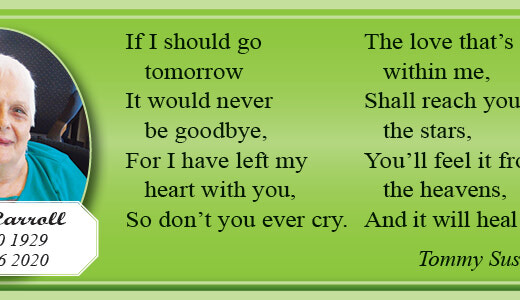 Tuesday, June 21, 2022
In Memoriam - Anne Carroll