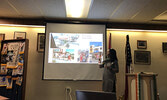 Sylvie MacDonald recalls trip of a lifetime to India
Tim Brody - Editor
As visitors from India prepare to visit Sioux Lookout in July, Rotary Club of Sioux Lookout member Sylvie MacDonald recalls her journey to India in January, which she said was nothing short of a dream come true.
"I had read a couple of books and the setting was in India. It seemed so different and foreign that I always thought I'd really like to go there and everybody that I'd ever heard talk about it would say how it awakens your five senses and I just wanted to experience that," she said.
MacDonald's two week trip was through a Rotary Friendship Exchange (RFE) between District 5550 (covering an area from Northwestern Ontario, through Manitoba, to near the western border of Saskatchewan) and District 3040 in India.
MacDonald was so excited about her trip she departed early to visit the Taj Mahal in Agra, which she said was an amazing experience.
"It's one of the seven wonders and if you're that close to one of them, you have to make the effort. It was all of that. It was a beautiful day so the setting was there, just the history behind it, the love story … when you think of what they didn't have to build it and how grand it is… it was phenomenal."
She added, "There's so much to explore and discover about India, and having been there, I realize how much I could still discover."
MacDonald stayed with three host families on her exchange. "I also stayed in three different hotels, all of which gave me different perspectives. I travelled with nine other Rotarians from our district, from Saskatchewan, Hudson Bay, Assiniboine, Brandon and Kenora."
MacDonald visited New Delhi, Indore, Bhopal, Ratlam, Chittorgarh, Udaipur and Mumbai.
She vividly recalled what it was like visiting centuries old temples and forts. "You just have to really put yourself in that setting and do a 360 of that space that you're in. You're in awe of it and even when the tour guides tell you a little about the history, it's only a certain time, but there's so much more, there's so many layers. Every temple has years, centuries to study. It's a little bit overwhelming."
She also visited Rotary projects, museums, schools, markets and restaurants.
Another thing she said she will always remember is the animals she saw on her exchange including monkeys, elephants, peacocks and camels.
"You take the time and take in that moment. I breathed it in and never wanted to forget," she said of her trip.
"I think India is a spectacular place to travel, I would say it would be great to explore it through a tour or with locals, there is a sense of optimism there, and you can feel it once you remove your "western glasses"! I am grateful for my trip and will never forget it," she said.
From the evening of July 2 to the morning of July 5, 10 members of District 3040 in India will visit Sioux Lookout through the Rotary Friendship Exchange.
"Please feel free to come and greet them," MacDonald concluded.