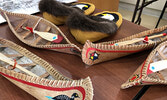 SLAAMB market
Sioux Lookout Area Aboriginal Management Board (SLAAMB) hosted their annual spring flea market, craft and bake sale on May 24.
Pizza, tacos, baked goods, bead work, wood work, gloves and moccasins, and baby bundles were just some of the items for sale.
SLAAMB coordinator Mary Tait said the annual market helps give area entrepreneurs an opportunity to showcase their work. She encouraged other Indigenous craftspeople to participate in future markets.