Successful racing season for Sioux Lookout mushers
Tim Brody - Editor
Sioux Lookout husband and wife mushers Jesse Terry and Mary England are celebrating a successful season of sled dog racing.
Terry, a member of Lac Seul First Nation, is the 2023 Canadian Challenge Sled Dog Race, 10 dog race (200 miles) winner, winning the event for the second year in a row.
England placed third in the Canadian Challenge Sled Dog Race, 10 dog race (200 miles), continuing on for another 100 miles to complete the 300 mile event, the only competitor to do so. She was also recognized with the vet award.
The race took place in Saskatchewan with a start date of Feb. 21.
Terry finished 6th in the 300 mile John Beargrease Sled Dog Marathon, racing a 12 dog team and receiving the vet award in that race.
England finished 14th in the John Beargrease 120 mile event, racing the kennel's eight dog yearling team.
That race started on Jan. 29 in Minnesota and runs along Lake Superior, concluding in Grand Portage, south of Thunder Bay.
"It was a really tight, competitive field at the Beargrease and I finished minutes behind fourth and fifth place," Terry said.
"It was exciting. The trackers couldn't really identify with certainty who was going to be coming in first, so everyone was eagerly anticipating those fourth, fifth and sixth positions," England shared.
"The 120 race is a fast race. Those who do well in that category tend to have faster dogs then what we bred for. The goal was really giving the puppies a trial run and their first race and running it at a slower pace, so I felt really great about staying in the middle of the pack," England said.
"The big thing for Mary in that race was that she finished with all eight dogs in her team, every dog she started with finished the race… A lot of the credit for that vet award goes to the handler crew at the Beargrease who helped out at the checkpoint. The way the Beargrease is set up is that you're able to have handler support at the checkpoint to help you look after your dogs, feed your dogs, do any dog care that might be required at the checkpoint. To win that award at the Beargrease, I feel like a lot of the credit has to go to the handlers as well," Terry commented.
The team's handlers were BJ Egerter and daughter Kendall Egerter of Sioux Lookout and Kahsha Hyde, who works for a dogsledding operation in Minnesota.
Terry said of the Egerter's support, "Their whole family I feel like are our biggest supporters for what we do here. We're so lucky to have such awesome people who want to help us and support us. It's an absolute joy to have them as part of our team."
"Kendall is 12 and is the most enthusiastic dog lover, I've ever met," England added.
"It went really, really well. The Beargrease is a very competitive race with some of the top kennels that run these races around North America participating. To place near the top five is a huge accomplishment for us," Terry said.
After having to scratch at the John Beargrease race last year, Terry said, "To be back this year and finish in such good standing and win the vet award, it was a huge, huge success for us… the teams that finished in front of me were much more experienced kennels and most of those kennels in the top five have won the Beargrease in past years and so to be competing at that same level as those kennels, it really tells us that we're doing things right, we have really good dogs in our kennel, and we just need to keep doing what we're doing."
"The Beargrease is a race that kind of commemorates a man named John Beargrease, an Anishinabe man who lived on the north shore of Superior, an Ojibway man who was a mail carrier and he used to carry mail basically along the route that the race trail takes… so it commemorates this Anishinabe man who used to carry mail along that route and as an Anishinabe man myself, it's just a real honour to travel down the race trail that commemorates another Anishinabe man who used to do such an important task for the people that lived along that piece of shoreline along lake superior," Terry shared.
"We had lots of family support at the Canadian Challenge, so this year our children Tevai and Miali were able to both attend the race with us and the only reason they were able to attend the race was because Mary's mother, Sandra, flew in from BC where she lives to join us, as well as my sister Kanina and her son Dolor, joined us as well," Terry explained. "As well, my father Tom joined us as our dog handler and drove our truck and trailer from checkpoint to checkpoint. With that family support crew, it basically allowed us to travel down the trail and do what we do. I also wanted to give a shoutout to our kid's mom, Seeka, who lets the kids travel with us," Terry said.
Terry has been involved in mushing since the age of 11, when his parents got some sled dogs. He first started distance racing in 2012.
England's first formal race was in 2020.
"I'm so proud of her for doing what she's doing and just taking it all in stride, it's really inspiring to see Mary doing what she does for sure," Terry said, commenting on how far his wife has come in the sport in a short amount of time.
"Finishing the 300 miles, that extra hundred miles was really just a test against myself," England said. "When you reflect on having done well at these races my mind goes to all those hours spent on the quad training these dogs in September and October, which is when the training starts, and just how long of a road it is to get a team to this level, it's quite sobering when you think of all those hours… It's those hours that make the teams as strong as they are to do these things," she commented.
Terry and England said having their kennel, On The Land Sled Dogs, be recognized with the vet award at both races they attended this season means a great deal to them.
"Knowing they have the instinctual drive to run and our job as mushers is to condition them and train them so that they can fulfill this instinctual drive to run these long distances in a healthy way. Getting the vet award is a validation, it's really a vote of confidence that we're doing it right and that we're doing it well and that these dogs are looked after in the best way that we can and it's a really meaningful award. For Jesse to get it at the Beargrease and for me to get it at this race, feels really good," England said.
Terry said at any race the dogs' wellbeing is the top priority.
He explained that the dogs are checked by a team of vets before they race, multiple times during the race, and that the end of the race.
"To receive that award two times this year for our kennel is a huge, huge honour," he said.
The couple have now wrapped up racing season and wished to thank the community for their support.
"I think for myself I just recognize that there is quite a bit of support in Sioux Lookout for what we do. It's really evident when we finish a race and open our phones and go on social media and see the huge outpouring of support that comes from this little town for what we do and I just want to say thanks from all of our hearts for the support that people have for us… we just want to say a huge thanks to everyone who took the time to comment and support us and send us well wishes, it really means a lot to us," Terry concluded.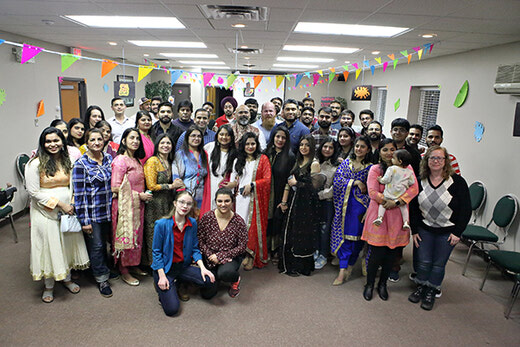 Tuesday, March 14, 2023
A celebration of Holi Milan, the Hindu Festival of Colours, was held on March 4 at the Forest Inn and Conference Centre...