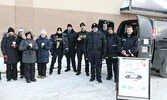 Stuff A Cruiser, Adopt A Family program helping to ensure everyone has a great Christmas
Tim Brody - Editor
Representatives from First Step Women's Shelter (FSWS) and the Sioux Lookout OPP Detachment were at Giant Tiger and Fresh Market Foods this past Saturday accepting donations of new unwrapped toys, non-perishable food items, and monetary donations to help all families in our community have a great Christmas.
This was the 14th year the Stuff A Cruiser initiative has taken place in Sioux Lookout and according to Sioux Lookout OPP, each year this initiative supports over 100 children in Sioux Lookout, Hudson, and Lac Seul First Nation.
Sergeant Jean Duguay of the Sioux Lookout OPP shared, "We assist the shelter in delivering the gifts and we get to see the families that we're helping. It's a great program."
Duguay said donations are still being accepted and people can drop of donations at the Sioux Lookout OPP Detachment or at First Step Women's Shelter.
He added that in conjunction with the Sioux Lookout Bombers, people can bring donations to the Bombers Dec. 8 game against the Thunder Bay North Stars to further support local families this Christmas.
Laura Duguay, First Step Women's Shelter Transitional Housing Support Worker, said donations support the FSWS's Community Christmas Program as well as their Adopt A Family program.
Laura Duguay said there is still an opportunity for people to support the Adopt A Family program, which matches a sponsor with a family in need this Christmas.
The sponsor assists by providing the family with gifts and donations. The shelter provides sponsors with a "Wish List" to assist with the shopping.
Referrals are still being accepted for the Adopt A Family program. People can find out more by contact Laura Duguay at 807-737-1438 or emailing [email protected].
Laura Duguay said gifts for teenagers would be especially appreciated, and said makeup and hairbrush sets, Bluetooth speakers, and gift cards would make especially good gifts.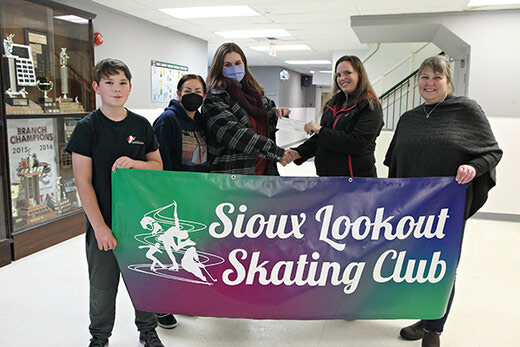 Tuesday, December 6, 2022
A $10,000 Christmas present for a lucky Sioux Lookout resident.
Jessica Morton was the winner in the Sioux Lookout Skating Club's 50/50 draw which took place last week.