Sol Mamakwa, NDP MPPS call on Ford government for faster winter road maintenance for Highways 11 and 17
Tim Brody - Editor
Ontario NDP MPPS are calling on the provincial government for faster winter road maintenance for Highways 11 and 17.
While in Kenora on Jan. 9 as part of the provincial government's 2023 pre-budget consultations Ontario NDP Finance critic Catherine Fife (Waterloo), Economic Development critic Terence Kernaghan (London North Centre), and deputy leader Sol Mamakwa ( Kiiwentinoong) held a press conference calling on the province to implement better winter maintenance standards for Highways 11 and 17.
"Northern Ontarians are consistently impacted by inadequate winter road maintenance on Highways 11 and 17. Seven people have lost their lives on Northwestern Ontario roads in the last two months. Insufficient road safety standards frequently lead to closures, traffic delays, and in the most tragic cases, accidents and fatalities," said Fife. "The Ford Conservatives continue to fail to prioritize the safety of Northern Ontarians."
In a Jan. 9 press release, the NDP shared, "The NDP's Northern MPPs have long advocated for quicker snow-clearing standards in the North. Twice now, the Ford government has rejected a private member's bill brought forward by MPP Guy Bourgouin (Mushkegowuk-James Bay) to designate Highways 11 and 17 as Class 1 highways, to ensure they are cleared of snow within eight hours, on par with 400-series highways and the QEW."
"We are urging the Ford government to create equal snow-clearing standards across the province, a vital move to ensure that all Ontarians are kept equally safe on our roads," Fife said.
"I will continue looking for effective ways to address highway maintenance standards in my community," said Mamakwa. "We deserve the same quality of roads as Southern Ontario drivers. I will continue to fight until the job is done."
On Nov. 18, 2022, the Ontario government announced a new standard for clearing snow on Highways 11 and 17.
The new "ON Trans-Canada" standard requires contractors to clear the highways to bare pavement within 12 hours of the end of a winter storm. This is four hours faster than the previous standard.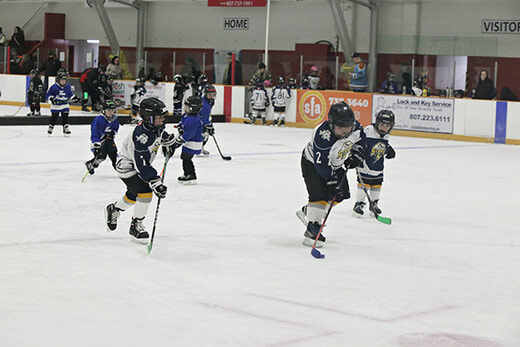 Tuesday, January 17, 2023
The Sioux Lookout Minor Hockey Association (SLMHA) hosted its U7 Jamboree on Jan. 7 at the Sioux Lookout Memorial Arena. Having fun and nourishing a love of the sport were the main goals of the jamboree...