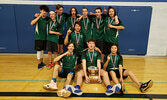 SNHS junior boys' volleyball team completes perfect season, brings home first ever AA gold medal
Jesse Bonello - Staff Writer
The Sioux North High School (SNHS) junior boys' volleyball team closed out an undefeated regular season with a gold medal victory over the Dryden Eagles in five sets (25-11, 25-19, 21-25, 23-25, 10-15) during the NorWOSSA 'AA' Finals in Dryden on Nov. 8.
The victory over Dryden marks the first gold for SNHS since moving up to the NorWOSSA (Northwestern Ontario Secondary Schools Athletic Association) 'AA' division in basketball, volleyball, and soccer.
"We had all new guys. We knew each other from elementary school, but we had a whole new team. There was three returning people from last year's team, so it was a fresh start and we didn't really expect to have this kind of season," said Walter Head, grade 10 SNHS student and returning volleyball player.
"When you're undefeated, everyone wants to have a perfect season. There was pressure to finish it off by going to the finals and winning," said Head.
"It feels like a great accomplishment knowing that going in to 'AA' we're still the same skill level, and we still played our best," said Cruz Kingston, grade 10 SNHS student and returning volleyball player.
"I was anticipating that it would be harder to make the playoffs then 'A', especially with such a turnover in players from last year's team… With a lot of new players I thought this would be a rebuilding year. Out of all the year's I've coached, it's been one of the most rewarding to see this group of guys come together, win at a 'AA' level, and go undefeated," said John MacRae, Head Coach of the junior boys' volleyball team .
"I told the kids that it's something when you're sitting around in 20 years, talking about your high school experience, it's something that you'll always remember. To go undefeated is quite an accomplishment," he said.
After being up two sets to none against Dryden, the Eagles stormed back to tie the gold medal game at two sets a piece, which led to a do-or-die fifth set.
"We were up 2-0 and we needed one set and they came back and tied it 2-2. We went to a fifth set, and whoever won that set won it all. It felt really good," said Head.
"It felt good because we know that every time we played Dryden they got better and better. It was nerve-wracking going in to the finals and playing them because we knew they were a really good team and they knew they had what it takes to win," he added.
"I've coached enough to know that at the junior level the game can swing. It's such a game of momentum and I could feel in the third set that Dryden was calming down and playing their game. We started to make mistakes so the momentum shifted. I was still very confident going in to the tiebreaker fifth set that our skill level would come out on top and the boys calmed down, played their game, and we did accomplish that," said MacRae.
MacRae said the transition to the 'AA' division, combined with the lack of returning players, had the team starting the year with low expectations. He said the pressure continued to grow as the team continued to win games.
"At the beginning of the year, because we were new to the 'AA' level, we had such a team of rookies that the expectations were very low for us. As the season went on and we kept winning, the pressure grew on us to continue to win and other teams were gunning for us because now we were seen as the best team in the league. I've seen so many times in the history of coaching that you have a perfect regular season and then a team in the playoffs is riding an emotional crescendo and they come up and defeat you because they're on an emotional high. It's always hard to win the gold medal after a perfect season because teams are gunning for you," he said.
MacRae shared that this year will be his final year coaching at SNHS. With so many young players getting this past season under their belt, he said the next coach will be taking over an experienced squad next year.
"This is my last year coaching, so I'm leaving whoever takes over the team next year in good hands because there's a lot of young players now with a year of experience. We're going to have a very senior, veteran crew next year for a new coach," he said.