SLMHC welcomes new group of NOSM University learners
Tim Brody - Editor
The Sioux Lookout Meno Ya Win Health Centre (SLMHC) is welcoming a new group of third year NOSM University students.
NOSM University is Canada's first independent medical university and while they are here, the four third-year Comprehensive Community Clerkship students will gain experience with SLMHC.
The learners, Jonathan Poenn, Hallie Prescott, Abigale Kent, and Jenna Simpson will spend September through March learning in the area.
Dr. Maija Robinson is Site Liaison Clinician for the students, Michelle Hrynchuk is their Site Administrative Coordinator.
Hrynchuk shared, "We are very excited to begin the new chapter in these students' medical education and welcome them to our community."
To help people get to know them better, the four NOSM University student were asked about: 1. Where they are joining us from? 2. Their decision to study in the Sioux Lookout area. 3. What career path they hope to take on their medical learning journey? 4. If there is anything they would like to share about themselves?
These were their responses in the order in which they were submitted.
Jonathan Poenn
I'm looking forward to exploring the beautiful landscape surrounding the town, as well as hopefully riding in a floatplane. I'm also excited to work at Meno Ya Win and to connect with the northern communities.
I grew up on Manitoulin Island. For the last two years at NOSM, I've lived in Thunder Bay, with my wife.
As I grew up in a small town and one day hope to practice there, I wanted to do my practical schooling in a rural area. I wanted a town that provided both a beautiful nature experience as well as a high-quality medical education. Sioux Lookout seemed like the perfect mix of these two desires. I was also very interested in the northern clinic service and I'm looking forward to providing health care in northern communities.
I hope to do rural family practice in my hometown on Manitoulin Island. Healthcare in Little Current, which consists of a family clinic, ER, hospital, nursing home, as well as clinics on 4 reserves.
I enjoy fat biking, cross-country skiing, hiking, and canoeing. I also have a background in classical music and play cello and piano.
Hallie Prescott
I am really looking forward to exploring Sioux Lookout's scenery and community! I feel grateful to be able to spend the next few months here, getting to know the community which has already been so welcoming. I hope that though our time here is short that we are able to gain a true Sioux Lookout experience and understand firsthand what has been described to me as so exceptional.
I am joining you from the NOSMU's West campus in Thunder Bay! My hometown is Elliot Lake.
Spending the past two years in Thunder Bay I have fallen in love with Northwestern Ontario. The community dynamic, outdoor spaces, etc. are so special. Further, looking through our potential sites for this year, Sioux Lookout stuck out to me as such a cool community, and an incredible health care system. I am really looking forward to gaining an appreciation for the unique health care challenges faced by the area and being involved in patient care.
I am still unsure of which specialty I am hoping to pursue but have really enjoyed my placements in rural medicine and general surgery.
In my spare time I enjoy reading and being outdoors, hiking in the summer, and skiing in the winter. I'm hoping to learn how to cross-country ski this winter and would love to see/hear about your favourite local trails!
Thank you for welcoming us, I am so excited to be living and learning in Sioux Lookout this year!
Abigale Kent
I am so excited to meet the local residents of this warm and welcoming community. I look forward to joining community events and learning more about the rich cultural heritage of this beautiful slice of Ontario. Hopefully there will even be time to cast a line or two…
I grew up in the city of Orillia, just south of Muskoka's cottage country. However, I have been living in Thunder Bay for the past seven years while going to school at Lakehead University.
Sioux Lookout has so much to offer when it comes to community connection, cultural celebration, and natural beauty. I spent a large part of my childhood at my grandmother's farm in Coldwater ON, so I am excited to once again experience the warmth and reciprocity that comes from knowing all of your neighbours. I also wanted to study in Sioux Lookout because Meno Ya Win Health Centre is a one-of-a-kind facility with a strong reputation for excellent care delivery and dedicated staff. I know I will receive a top-notch education here both within the hospital and within the community.
There are still so many things left for me to try, so I am keeping an open mind and enjoying every opportunity as it comes. What I do know is that forming therapeutic relationships with my patients and providing care for people over the course of their lifetime is something that is important to me. I just completed four weeks of vascular surgery and I absolutely loved having the chance to do preventative medicine, clinical assessments, and surgical based work.
Like most NOSM students, I am an outdoor enthusiast. On my weekends off, you will find me hiking local trails, paddling Pelican Lake, or casting a line from the dock. I will be trading in my snowboard for a pair of skates this winter (just look for the NOSM student impersonating Bambi on the ice). Any suggestions for hiking trails or cool outdoor spots are always welcome. My other passion is music, so I hope there are a few opportunities to sing some songs around a campfire while I'm here!
If you see my classmates or myself around town, please feel free to come say hello! We are an approachable bunch at NOSM, and we can't wait to meet you.

Jenna Simpson
I am really looking forward to getting to know the community of Sioux Lookout! Everyone has already been so friendly and welcoming, and I can't wait to spend the next seven months in this supportive environment.
I am coming to Sioux Lookout from Thunder Bay, where I both grew up and am currently attending NOSM University.
Sioux Lookout was my top choice for clerkship because it seemed like a great match for my personal life as well as a great learning environment. I have heard only fantastic things about the preceptors and mentors here and definitely anticipate learning so much over my time here.
While I still feel like it is still a ways away, I am hoping to one day be working in the North as a paediatrician.
I have lived most of my life in Northern Ontario and really appreciate the exposure to outdoor activities, especially cross-country skiing, swimming, camping and hiking that the region allows.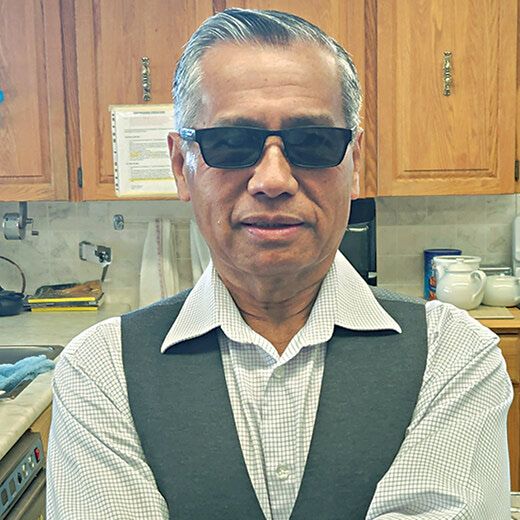 Tuesday, September 13, 2022
Nelson Agustin, Elaine McClain, Eileen Jeffery, and Jacueline Southwell answer this week's question.