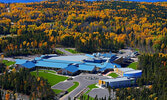 SLMHC receives base operational funding approval for new MRI
Tim Brody - Editor
Sioux Lookout Meno Ya Win Health Centre (SLMHC) announced last week that it will receive base funding from Ontario Health North West to support the operation of a new Magnetic Resonance Imaging (MRI) Scanner.
The MRI machine is estimated to cost $2.3 million, with potential estimated costs to purchase the machine and house it coming in at approximately $7 million if new construction has to occur.
The estimated $7 million would all have to be fundraised as SLMHC is responsible for all capital costs associated with construction to house the new MRI Scanner, as well as the MRI itself.
"The SLMHC Foundation Board is extremely excited about this great news, and we will be starting a formal fundraising campaign in the very near future with details announced by early spring," Christine Hoey, SLMHC Foundation President stated in the health centre's Feb. 21 media release. "We want to have the MRI operational as soon as possible, so we will be reaching out to the community and all the areas we service to help us reach our goal. If you have any questions, or would like to donate prior to our formal announcement, please contact the Foundation office at 807-738-0566."
"SLMHC, and its Board of Directors, is so thankful for the ongoing support of the SLMHC Foundation and its generous donors. They've played a huge role in fundraising for major equipment needs, and have helped enhance health care in Sioux Lookout and the north," said Sadie Maxwell, SLMHC Board Chair.
"MRI will be a game changer in the emergency department. It will allow us access to a diagnostic modality that can make a difference in the emergency care of our patients. It will also save on costs of travel from our region for patients that require an MRI procedure," said Dr. John Glenn, Chief of Emergency Department.
"The implementation of an MRI unit will help provide better health care services both closer and sooner for our patients and service area. An MRI unit is crucial for ensuring proactive and timely health care services for residents served by us here at SLMHC," stated Dean Osmond, Acting President and CEO of SLMHC.
"We are thrilled that this one-of-a-kind technology will be available in our region. Our team looks forward to bringing on new members who have expertise in the field of Magnetic Resonance Imaging. Together, we will strive to build a program that reflects the high-quality standards we aim to put forth every day," commented Leena Thibodeau, Manager of Laboratory and Diagnostic Imaging Services at SLMHC.
SLMHC serves approximately 30,000 residents across a geographical area of approximately 385,000 square km. "Currently, patients endure wait times and required travel for MRI scans in both Thunder Bay and Winnipeg. An MRI unit at SLMHC will improve access to health care service for our patients, and it will reduce wait times as patients look to access MRI scans," SLMHC shared.
"The radiologists and physicians are thrilled with the addition of an MRI to our Diagnostic Imaging Department. It will enable another step forward to ensure full comprehensive diagnostic imaging services closer to home," stated Dr. Neety Panu, Radiologist. "Patients and their families can feel less burdened by travel and other logistics with this addition. We thank the Ontario government for recognizing this need in our unique population."
"The addition of an MRI machine to our surgical program will be very helpful for breast and biliary disease in particular. Patients with complex gallstone or pancreatic disease could now be imaged without the need for radiation or potentially invasive procedures, and patients with a high risk for breast cancer or complicated breast disease could now similarly be imaged here in Sioux Lookout for both screening and to help guide treatment," noted Dr. Justin Poling, General Surgeon.
"We advocated constantly with Ontario Health North to select our facility for approval to operate an MRI at SLMHC. I participated on the Medical Imaging Health Human Resources Subcommittee, which also advocated for site designation," said Dean Osmond, Acting President and CEO of SLMHC.
"Having an MRI located in Sioux Lookout has been a dream for the hospital before the completion of the build of the current hospital we are now located in. This is a major step forward to improve access to care closer to home, not only for Sioux Lookout but also for the surrounding northern communities that we serve. The announcement of base annual operating funding for a new MRI in Sioux Lookout has been a game changer in allowing us to shift our focus from dream to planning," stated Michelle Beaulne, Director of Corporate Support Services at SLMHC.
"We are currently reviewing options for the location of the MRI to determine if this can be located within the current space of the hospital or if we will need to look at options to extend through an addition to the department. The outcome of this review will determine not only timelines but also overall cost. We are hoping to have a better understanding of timelines over the next couple of months," SLMHC concluded.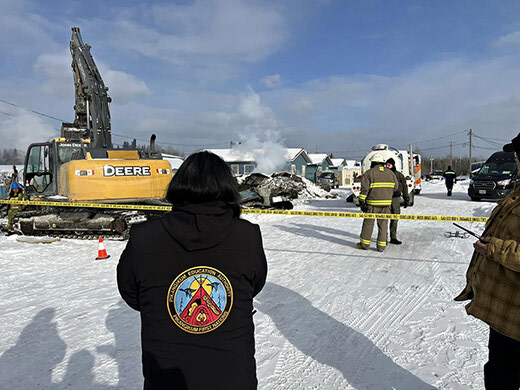 Tuesday, February 28, 2023
"The remains of two adults and one young child have been recovered from the fatal house fire that occurred Wednesday evening in Pikangikum First Nation," the community shared in a Feb. 27 news release...