SLMHC patient calling on provincial government to investigate the management, administration, and the quality of patient care at Sioux Lookout Meno Ya Win Health Centre
Tim Brody - Editor
A Sioux Lookout Meno Ya Win Health Centre (SLMHC) patient is calling on the provincial government "to appoint one or more persons to investigate and report on the quality of the management and administration of (the) hospital, the quality of the care treatment of patients in (the) hospital or any other matter relating to (the) hospital where the Lieutenant Governor in Council considers it in the public interest to do so."
"There have been times when I've felt uneasy and, quite frankly, feared for my safety as a patient" said Garnet Angeconeb, a resident of Sioux Lookout and a member of the Lac Seul First Nation. Angeconeb lives with Kennedy's Disease, a debilitating neurological disorder that causes muscle weakness. He now needs 24/7 care.
In March and April 2022 Angeconeb says he spent seven weeks as a patient at SLMHC. During that time, he says he encountered two "unsafe" situations involving nursing staff. Both nurses he says were "let go" and he questions if they were reported to their professional standards association for disciplinary action.
On April 20, 2022, Angeconeb was discharged from the hospital and went home. A week later he was readmitted to the hospital as he was unable to cope safely at home, residing at a seniors' residence which he said has extremely limited support services. After a near fall on the evening of April 27, he went back to SLMHC.
Angeconeb says he had made prior arrangements to meet with the hospital board of directors and senior management officials for April 28, 2022. He says after spending the night at the ER lying on an uncomfortable gurney, he found his way to the hospital's boardroom.
Angeconeb says the following key points were communicated to the Board and Senior Management, mostly experiences from March and April 2022:
• "Many of the concerns were already present long before the start of the pandemic although the pandemic compounded difficulties everywhere;
• "Concerns about the poor quality of healthcare being provided at the hospital;
• "Talked about the two incidents regarding the nurses who were "let go;"
• "Explained the difficulties and challenges of living with Kennedy's Disease in the hospital;
• "Impacts on patient care due to: shortage of staff; burnout, overworked;
• "Being short staffed effected other units and departments of the overall hospital systems;
• "Lack of cultural awareness and understanding by agency nurses and visa versa with patients; and,
• "Talked about the importance of the board to review and evaluate the historic 1997 Four Party Hospital Services Agreement, a foundational document of the Sioux Lookout Meno Ya Win Health Centre."
Angeconeb says it has been eight months since the meeting and nothing has been reported back to him regarding the concerns he raised. However, he says shortly after the meeting, he was offered a role to be an advisor for patient advocacy. He declined this offer, stating he did not want to be a "whistleblower" and be a patient at the same time.
More recently on December 6, 2022, Angeconeb says he reported another incident which he says is currently under investigation by the hospital management.
In calling for an investigation Angeconeb says, "There are a lot of unanswered questions the public needs to know. The citizens of Sioux Lookout and the northern First Nations communities need to get to the bottom of what is really happening to this once highly reputable hospital. The people need to know why things have seemingly gotten worse."
Angeconeb added, "There are some similarities with what is happening at the Thunder Bay Police Services facing board and management issues. And the Ontario government needs to step in, investigate, identify the problems, and prioritize the issues that need remedy."
Angeconeb says he feels, "Starting at the top, the current board structure, including the board roles and responsibilities need to reviewed and improved accordingly. Board training and more cross-cultural education maybe necessary."
Angeconeb says since he met with the board in April 2022, "There have been significant changes at the senior management level. In June 2022 then President and CEO Heather Lee retired. For some, Lee's retirement was somewhat unexpected at the time. Long-time advisor to the SLMHC board and management, Douglas Semple was appointed as the new President and CEO. And just before the Christmas holiday break, Mr. Semple suddenly resigned as the SLMHC President and CEO, a position he held for only six months."
Angeconeb concludes, "As a patient here for the past ten months, I have witnessed, I have observed, and I have felt this hospital has been operating in crisis mode. I am not afraid of repercussions: someone has to speak up. This hospital is a good place but right now it is in need of healing itself."
The Bulletin reached out to SLMHC with regard to Angeconeb's concerns and comments and received the following statement, "Although we can't speak to specific patients and incidents' due to confidentiality, SLMHC has quality and patient safety processes in place that we are dedicated to following for all our patients. These processes meet legislative requirements and are aligned with our Missions, Visions, and Values."
SLMHC confirmed Semple submitted his resignation at the last SLMHC board meeting in December.
Angeconeb emailed his concerns and comments to Premier Doug Ford and to Health Minister Sylvia Jones on December 28.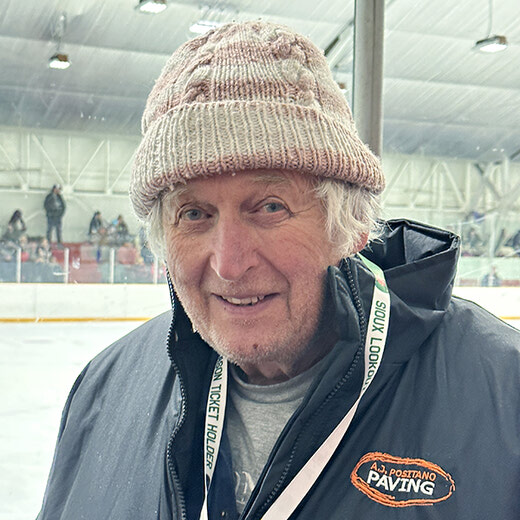 Tuesday, January 10, 2023
Allan Pizziol, Stu and Renata Rattai, Karl Schulz, and Lennox Bradley answer this week's question.