Question of the week:
The Sioux Lookout Bombers are starting the second half of their season. Do you have any words of encouragement for the team?

Allan Pizziol

Retired
I haven't seen this kind of hockey in so long, it's really good hockey. I'm really proud of Sioux Lookout. Keep up the good work.

Stu and Renata Rattai
Standard Insurance Broker, SHS student, father and daughter
Good luck the rest of the way. Keep playing hard.

Karl, Kiera, and Jennifer Schulz
Family members
You should keep playing hard. They've surprised lots of people. Be proud of what you've done, but there's still more to do. Best of
luck with the rest of the season.

Nicole, Lennox, and Chris Bradley
Family members
Keep scoring lots of goals. Good luck!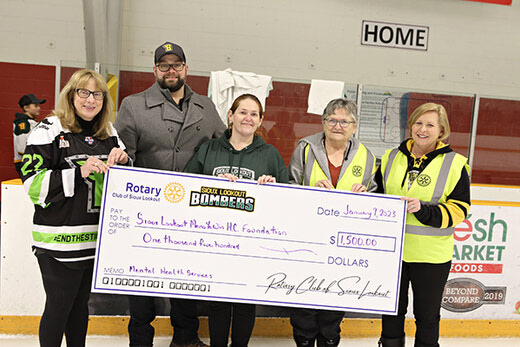 Tuesday, January 10, 2023
On November 30 the Sioux Lookout Bombers, in cooperation with the Rotary Club of Sioux Lookout, hosted their first annual Mental Health Awareness night, an initiative which was spearheaded by several Bombers players, including #26 Aiden Parker...