Sioux North High School Prom 2022
Tim Brody - Editor
After a two-year hiatus due to the COVID-19 pandemic, Prom was held at Sioux North High School (SNHS) on June 10.
Under the themes A Night to Remember and Secret Garden, an estimated 300 students from Grades 9 through 12 dressed up to attend the celebration.
"It's really exciting to see so many faces and everyone's so excited and dressed up again, marking the end of the school year. They finally get to have a celebration," SNHS Teacher and Prom Co-Coordinator Shawn Hordy said.
This year's Prom featured dancing, a photo booth, a VIP section for potential grads, music provided by Volt Entertainment and catering by Pelican Lake Sandwich Company.
"We're really lucky that we had a lot of great donations from the community. Fresh Market Foods helped us out a lot with some fresh flowers and some fruit trays and stuff like that and with our Secret Garden theme, it really brought things to life," SNHS Teacher and Prom Co-Coordinator Gaby Landheer agreed.
She shared, "The kids were so excited from the very beginning of hearing about Prom and just the buzz growing up until the day, this is so worth it, they're just so happy."
"I think it just speaks to how much they were really wanting this... Getting dressed up, coming out with their friends, and having something to look forward to, I mean that's what high school is all about and we haven't been able to do that," she concluded.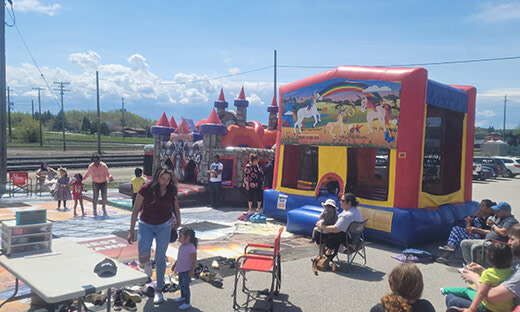 Tuesday, June 7, 2022
Many families came out to enjoy the Sioux Lookout Funfest event, which saw Fun-Tastic Castles set up downtown...