Sioux Lookout's Ice Candle Memorial scheduled for Dec. 23
Tim Brody - Editor
Sioux Lookout's annual Ice Candle Memorial service will be taking place on December 23, beginning at 6:30 p.m. at St. Andrew's United Church.
The three-part service will continue at St. Mary's Anglican Church and conclude at Sacred Heart Church.
The service, being conducted by St. Andrew's United Church, St. Mary's Anglican Church, Sacred Heart Church, and Cornerstone Christian Fellowship, will include prayers, scripture readings, hymns and the lighting of memorial candles to remember and honour loved ones departed. Names of area residents who have passed away or were interred locally in the past year will also be read aloud.
"It's just another way to help people to honour the passing of someone; the first Christmas after someone important is gone is always really difficult," shared Aileen Urquhart, a member of the event's planning team.
Ice candles can be purchased for $10 in memory of loved ones departed through the Rotary Club of Sioux Lookout at the Sioux Lookout Chamber of Commerce Last Minute Market on Dec. 17, at the Fresh Market Foods service counter until Dec. 22, and online. A QR code can be scanned from the event description posted on the Rotary Club of Sioux Lookout's Facebook page.
The Rotary Club will prepare the ice candles and place them on snow stages at Sacred Heart / Northway Cemetery and Hillcrest Cemetery, as well as in front of each of the three churches. New this year, people will also have the option to have ice candles placed on a stage at the Legion cemetery. The Rotary Club will share the proceeds of all candles purchased in memory of veterans with the Legion.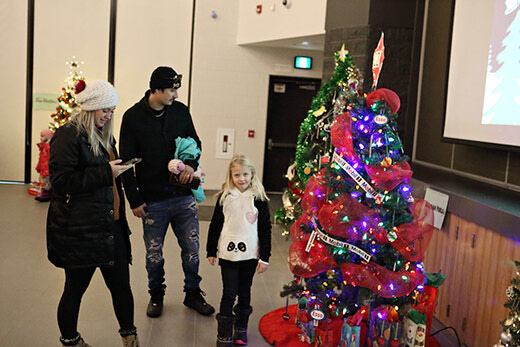 Tuesday, December 13, 2022
Christmas music filled the Sioux North High School (SNHS) cafetorium last Sunday afternoon and Christmas trees decorated by fifteen local businesses and organizations merrily glowed during this year's Festival of Trees...