Festival of Trees lights up the holiday season
Tim Brody - Editor
Christmas music filled the Sioux North High School (SNHS) cafetorium last Sunday afternoon and Christmas trees decorated by fifteen local businesses and organizations merrily glowed during this year's Festival of Trees.
Hosted by the SNHS Prom Committee, the event, which was a fundraiser for this year's prom, featured ornament and gingerbread cookie decorating, hot chocolate, and a bake sale for the Sioux Mountain Public School Grade 7/8 trip.
SNHS Teacher and Prom Committee Co-Coordinator Gaby Landheer shared, "We're really happy with it. We're hoping it will grow year after year and make this an annual thing… we're really happy with the turnout. The businesses have been really supportive."
She added, "We'd just like to say thank you to the Sioux Hudson Entertainment Series for donated our door prize and to all the businesses that put in the effort and set up the trees."
Participating businesses included: Shibogama First Nations Education Authority, Lac Seul Education Authority, Moosehorn Lodge, Winoga Lodge, Sioux Lookout Skating Club, Drayton Cash and Carry, Dori's Sewing Studio, Tim Hortons, Fresh Market Foods, Morgan Fuels, Community Living, Friends of Cedar Bay, SkyCare, FIREFLY, and Ms. Northway's Kindgarten Class from Sioux Mountain Public School.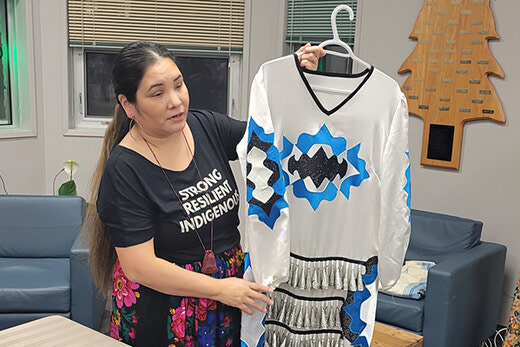 Tuesday, December 13, 2022
A huge thank you to all of our presenters and attendees at our very first Adult Show and Tell evening last night (Dec. 7)!
We had some fascinating items and presenters that thrilled the crowd with the stories behind their treasures!