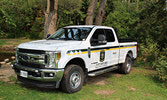 Sioux Lookout resident fined, given one year fishing prohibition
Tim Brody - Editor
A Sioux Lookout angler has pleaded guilty to possessing 17 walleye over the legal limit.
Justice of the Peace Shiree Scribner heard the case remotely in the Ontario Court of Justice, Sioux Lookout, on May 25.
The Ministry of Natural Resources and Forestry (MNRF) shared in a July 14 Bulletin, "Robert Whalen of Sioux Lookout pleaded guilty to possession of 17 walleye over the legal limit, possession of fish packed in a manner that could not easily be counted and possession of fish skinned in a manner that could not easily be identified. He received $6,600 in fines and is prohibited from fishing for a period of one year."
The MNRF further noted, "The court heard that on June 6, 2022, a conservation officer conducted an inspection at the Sioux Lookout train station, which is regularly used by anglers to access popular fishing locations. The officer inspected a cooler belonging to Whalen that contained numerous packages of skinned frozen fish making it difficult to identify and count. Whalen was returning from a fishing trip on Kawaweogama Lake near Allenwater."
The MNRF advised that to report a natural resource problem or provide information about an unsolved case, members of the public can call the ministry TIPS line toll free at 1-877-847-7667. People can also call Crime Stoppers anonymously at 1-800-222-TIPS. For more information about unsolved cases, please visit ontario.ca/mnrftips.
Thursday, July 20, 2023
My thoughts are with the community of Eabametoong as they have declared a state of emergency and have had to evacuate members of their community due to the fire that burned down their water treatment plant...