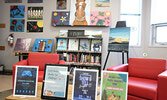 Sioux Lookout Public Library embracing concept of Library Living Room
Tim Brody - Editor
The Sioux Lookout Public Library (SLPL) has become a bustling hub of activity with the concept of a Library Living Room at its core.
Shawn Bethke, SLPL CEO, said, "That's a priority for the Board and a priority for myself when they brough me here, was to establish, I think what we're calling it is the Library Living Room for the community."
He shared while being interviewed at the Library, "It feels a lot like a living room… conversations going on, people doing various different things throughout the building, really utilizing the building, programs going on in the backroom, people going for DVD's, people studying, people using their computers, people conversing while looking at art… it's what it's all about."
On Jan. 11 the Library launched its new website (https://slpl.on.ca/), which Bethke said is more user friendly and easier for staff to update. The website has been optimized for mobile use and includes the Library's Facebook feed.
Through the website, people can also connect to the Ontario library catalogue system to access a broader range of materials than the physical building in Sioux Lookout is able to offer.
The website features a scrolling feed of all new books the library adds, updated in real time. Upon first landing on the website, people can find out about how to obtain a library card if they don't currently have one.
"We want people to be able to use our materials as soon as possible and people are usually looking for our new stuff," Bethke said.
The website also features a listing of upcoming library events, of which they are many.
Events currently listed include Family Time Fridays, Seniors Time, Show and Tell Night II, Nerf Wars, Family Board Game Night, Local Artist Showcases, a Valentine's Paint Workshop, and Video Game Club.
"It's a great program. Our new Assistant Librarian Nancy McCord has spearheaded children's programing and youth programing. So, one of those ideas was to bring back the Video Game Club, which is very popular," Bethke said. The library was able to purchase a PlayStation 4 and some games and also has an older Xbox system and Wii system and some games. Video Game Club is open to youth aged 11 and up on Tuesday's and Thursdays from 3:15 to 4:45 and is running from Jan. 10 to Feb. 24.
The Library is currently featuring artwork by about a dozen artists through a Local Artist Showcase initiative. The Library is looking for artwork to feature for a second round of the showcase which will run from Feb. 1 to March 30.
"I think you can see how beautiful it makes the library," Bethke said. "This area has just become a natural seating area… they're coming and sitting as groups and discussing and things like that and I think the art is feeding into that. It's giving this very welcoming impression to people, an important impression for libraries that we are centres of arts and culture. We are surrounded by books, by art, by music – we offered the concert by Plays With Strings over the holidays, so we are trying to bring in a lot of art, music, culture, everything – we want to be that centre."
The Library plans to rotate the showcase every two to three months and is always on the lookout for new artists' works to showcase, whether they be professionals or amateur.
Another initiative the Library has on the go is Show and Tell Night II on January 25 from 6 p.m. to 8 p.m.
Commenting on the Library's first Show and Tell Night, Bethke said, "We had a crowd of about 20 people out and the people who were here were thrilled and fascinated by the things that came out. It's not just the items, it's the stories and the people who are telling them."
The Library is hoping to make Show and Tell Night at least a quarterly event.
"We're looking for stories from everybody. We are the library and represent the entire community and we'd like to hear from the entire community," Bethke emphasized.
Anyone who would like to take part in the Artist Showcase or Show and Tell Night II can
message the Sioux Lookout Public Library on their Facebook page or email [email protected].
Another initiative the Library has undertaken which is generating a lot of buzz in the community is the Sioux Lookout Bucket List Challenge.
"I think it's a very engaging tool for both newcomers and citizens who've been in Sioux Lookout for a while to sort of remember all of the different fun things there are to do here. Primarily we'd be looking to engage newcomers to town with this type of program. Myself, as a newcomer to town, I had looked and sort of did some of these things and thought this is an excellent type of way to get to know Sioux Lookout. I think when people come in they don't necessarily always know, when you are moving to a place you sort of look online and see what things are being said, and I think a lot of things here are word of mouth and aren't always out there for you to see," Bethke said.
Bucket list challenges include climbing Sioux Mountain, going curling at Edgewater outdoor curling, visiting the horses at Cedar Bay and getting a hot chocolate at the Cozy Cabin, going to a Sioux Lookout Bombers game, or attending a Culture Night at the Nishnawbe-Gamik Friendship Centre.
"I think when a newcomer comes to town and sees this list, they can go up to Sioux Mountain, they can do these things, get photos and feel really included in the community and we'll share that on our page and let people know that they're here. And if they'd like to introduce themselves, we're not forcing anyone, but if you want to introduce yourself to the town, we have a very large following on our Facebook, it's very active, a lot of people are checking it, so if you want to be introduced to the town as a newcomer we can put you out there. Send us a photo, send us a little write up, this is me… we're hoping the bucket list sort of engages people and we've tried to choose different types of activities that would appeal to different people," Bethke said. People can find additional details on the challenge on the Library's Facebook page. The contest is running through to March 15. Bethke said the Library plans to update the list each season.
The library is also offering Ontario Parks passes.
"This is a program from Ontario Parks that we learned about and asked to participate in. We were awarded three annual passes by Ontario Parks to check out to users," he informed.
People can check on the availability of the passes both in the library and online.
Assistant librarian Nancy McCord shared, "I really enjoy working with the youth, so I've reached out to a few classes, invited them to come on down, I've got a little scavenger hunt activity for them to do, learn about the library's resources, how to access them, where to access them."
She went on to share, "Video Game Club, it was a hit before COVID, so we thought we would try to do that again and of course it's a success again."
She added, "We're partnering with FIREFLY for Family Literacy Day, so they're going to come in and help with some programming for the 0-6 age group, and we're looking into different activities for the afternoon for other age groups."
"We would welcome any class, any students, any programming or partnerships. People can contact McCord through the Library's Facebook page or at [email protected].
Tuesday, January 17, 2023
Preparations are underway for the Northern Lights Community Theatre's next performance, "Welfarewell", a dramatic comedy by Cat Delaney, which will take place May 3, 4, and 5 at the Sioux North High School Cafetorium...