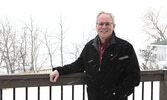 Sioux Lookout mayor continuing advocacy efforts to support local tourism industry
Tim Brody -
Editor
As we move into spring and the Canada-US border remains closed to non-essential travel, Sioux Lookout Mayor Doug Lawrance and the Municipality of Sioux Lookout are continuing advocacy efforts to support the area's tourism industry.
"Some might call it banging your head against a brick wall, but I continue to bang my head against a brick wall on many issues and sometimes it bears fruit and sometimes all you're doing is raising awareness and hoping that something will eventually come," Lawrance said.
In a January 28 letter from the Office of the Mayor to Mélanie Joly, Minister of Economic Development and Official Languages and Minister responsible for FedNor, Lawrance shared, "Following is a formal request from the Municipality of Sioux Lookout and Northern Tourism Leaders. Our request is two-part to you:
1. Establish a grant program that would provide funding equivalent to two-years of historical reporting of annual American patron deposits, and;
2. Establish a grant program to provide Tourism businesses with the necessary PPE and Rapid Testing Equipment for a safe 2021 opening."
Lawrance commented, "The last correspondence I sent was on February 9 to the federal government to Mona Fortier, Minister of Middle Class Prosperity and Associate Minister of Finance, referring her to the various advocacy information we've provided and hoping that they would include something in the budget to address this."
The Municipality also conducted a recent survey of tourist outfitters.
"The ideas we're getting for assistance, we're getting from the sector. We're not dreaming these up. We're getting these from the sector," Lawrance said.
Lawrance said there has been some help for tourist outfitters, "But it seems like a lack of recognition of the unique situation faced by Sioux Lookout and some other regional tourist outfitters, in that their market is the American market and there is no substitute market in Canada that is viable to keep them going. Their season is May to October perhaps, at the latest. So the programs that have been created seem to have ignored the seasonality aspect, or missed it, and also the fact that business has been entirely shut down."
"Certainly our tourist outfitters have earned something," Lawrance said. "They've been contributing taxes through income tax and business tax and property tax in the municipality for years, for decades, contributing to the economy, contributing to employment in other sectors, whether it be food supply, or fuel supply, service sector, and employment for people who are working at the facilities in various functions. They deserve to get a payback from the government, in the form of something equivalent to an unemployment insurance, something to keep the businesses going. We need these businesses in our area."
Lawrance said assistance for the tourism industry needs have some form of grant basis to it. If assistance is provided in the form of a loan, "I think the interest rate should be zero myself," he said.
"We haven't seen yet a program that is the type of program we're asking for," he said.
"We need to keep them. We cannot afford to lose them. We don't want to lose them. So, I will continue to bang my head against a brick wall to try and help them," Lawrance said of local tourism businesses.
"We will be, I suppose, using the media to put our message out in the coming weeks that this sector has been missed and is in desperate need of assistance and deserves some," he added.
"Unfortunately, often, you need to bang your head against a wall to get something and there's no guarantee you always will, but the tourism industry is extremely important to the Municipality and we're doing our best," he concluded.