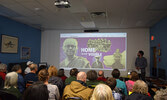 Sioux Lookout Library hosts film screening featuring local filmmaker
Jesse Bonello - Staff Writer
The digital media room at the Sioux Lookout Library was packed with residents looking to get a taste of six short films, which are all produced through Regent Park's Home Made Visible initiative.
The screening, which took place on March 3, featured Sioux Lookout resident Nadine Arpin and fellow filmmakers Jennifer Dysart and Lisa Jodoin.
The film screening is part of a Canada-wide tour that goes to 15 other locations. Nadine Arpin shared that it was crucial to have Sioux Lookout be a part of the tour.
"I said there's no way I'm going to participate in a tour unless it comes here (Sioux Lookout). So, for me, I knew that they wanted me to go to Thunder Bay because they wanted regional representation so my thought was I will go to Thunder Bay, but I want you to send two other filmmakers up and then I can take them back to my community," she said.
The Sioux Lookout Public Library needed to find more chairs as the digital media room kept filling up with eager audience members looking to view the short films. Arpin said the crowd blew her away and exceeded her expectations.
"When we started, I thought we were being ambitious by putting out 15 chairs because you never know. It's a Sunday and it's cold, so I thought if we would get 15 I'd be really happy," she shared.
One of the short films featured was Arpin's "Portrait of a Zamboni Driver", which revealed the story of Sioux Lookout resident Luis Espana. The film is described, "Growing up in Colombia, Luis España dreamed of a different life. When he married a Cree woman from Canada and returned to her small town, Luis found a sense of place driving the Zamboni at the local ice-rink where hockey is King."
The audience was filled with laughter and awe as they watched and heard about Luis's experiences dealing with his new, and much colder, Sioux Lookout environment outdoors and professional environment at the arena.
Arpin said she was thrilled to be able to show the community the sum of her hard work following the year-long filmmaking process.
"For me, it's very satisfying to be able to come back and showcase the end result of what I've been working on. To me it's such a celebration of the community. I wanted to really shine a light on the positive elements and some of the incredible people that are here," she shared.
When asked how it felt to share his story with the community, and seeing the audience embrace it, Espana was very grateful.
"I always feel amazed from the Canadian people, this town especially. It's such a very good community. I always feel supported…I feel very proud to be a part of this community," he said.
"I want to say thank you to this beautiful community. Thank you for the support from everybody," he continued.
Following the screening, some audience members participated in a workshop, which is described, "Home Made Visible commissioned Indigenous filmmakers Lisa Jodoin, Jennifer Dysart, and Nadine Arpin are hosting a workshop exploring the idea of the personal archive. In this workshop participants are asked to bring an object of significance to share with a small group. Through activities and exercises, the facilitators will guide workshop participants in expressing the memory and story attached to those objects to then produce a new personal archive: a digital audio/photo file, a mail-able postcard or an attachable memory tag."
With Sioux Lookout being just the fifth stop on the tour, it will continue until July 18 after making its way through Toronto, Brampton, Scarborough, Kahnawake, Fredericton, Vancouver, Whitehorse, Edmonton, and closing at the Toronto Media Arts Centre.