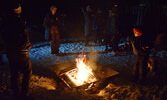 An evening at the Cedar Bay Cozy Cabin
Jesse Bonello - Staff Writer
Visitors walked, skied, and snowshoed their way down to the Cedar Bay lakeshore to enjoy an evening at the Cozy Cabin on Feb. 23.
Guests were greeted with warm fires and tasty treats while relishing a calm, crisp evening meeting new friends. Approximately 75 people visited the Cozy Cabin.
Long-time Friends of Cedar Bay Lakeshore Committee member Florence Woolner shared, "It was great to see skiers and walkers, kids and adults enjoying the nice weather and the warmth of two fires!"
"Everyone also liked sampling the fabulous baked goods prepared by the Beta Sigma Phi Sorority," she added.