Sioux Lookout Home Hardware Skip to Equip Classic raises $130,000
Tim Brody - Editor
A record-breaking Sioux Lookout Home Hardware Skip to Equip Classic.
The 12th annual women's curling fundraiser has raised $130,000 in support of the Sioux Lookout Meno Ya Win Health Centre Foundation to grow the health centre's equipment fund with priority given to a new MRI unit for the hospital. Last year's event raised $95,000, the previous highest total raised.
Members of the Skip to Equip Committee were awed by the amount the event brought in this year.
"Unbelievable. Not surprising working with sponsorship and seeing the generosity of sponsors on a daily basis and the increase in what they have been able to donate over the years. I think on their part recognizing the importance of the work and the fact that now we've identified the piece of equipment that we all need and want here. That is really a catalyst for people to be a lot more generous," commented Committee sponsorship and media representative Jackie Duhamel.
"I think this is just a really compassionate, hugely giving community," she added.
Melissa Slade, Donor Relations/Operations Coordinator, Sioux Lookout Meno Ya Win Health Centre Foundation, shared, "Sioux Lookout, as was mentioned numerous times here, we're going to be on target for being the smallest hospital in Ontario for sure, maybe even Canada, to get this piece of technology and I think today's figure really tells that people here in this small town and surrounding area are just super passionate about making that a reality."
This year's record-breaking total includes: participant's entry fees and collected pledges, 50/50 raffle profits, sponsorships and donations, silent auction profits, and profits from contests held over the weekend.
Nineteen teams took part in the event, down from twenty-four teams last year.
Teams were made up of participants from the Sioux Lookout area as well as Kenora, Winnipeg, Dryden, Ignace, and Atikokan.
"I know from the Foundation I did up receipts last year for people throughout Canada and in the US and southwestern Ontario… I think the energy and momentum that we've gained is really contagious," Slade added.
Participants said they had a great time.
Kristen Howie, a regular curler in the event, said, "We enjoy being able to contribute. They did a fantastic job. It's a great cause."
She added, "They don't miss a beat. We had some great draws, the people, the camaraderie, it's all very lovely."
Cindy Henrickson, a top pledge earner this year collecting $2500, is a regular participant in the event.
She shared, "I love to be part of this event. It's so much fun and it's such a great cause and people are generous. I hardly had to ask people to sponsor me. They just step forward every year. It's just unbelievable this town can raise that much money in one weekend."
Sheila Byrne, another regular participant, said, "It's fun to get together with the girls. I used to curl with my mom and then I eventually put my own team in, so get together with some friends and then obviously it's a good cause."
Sioux Lookout Meno Ya Win Health Centre Chief of Surgery Dr. Eric Touzin spoke to event participants during the closing ceremonies, thanking them for efforts to help make an MRI unit a reality in Sioux Lookout on day. He explained that an MRI produces superior images to the CT scanner the hospital currently has, an invaluable tool when trying to diagnosis a patient.
Cherie Coublombe, one of this year's event participants, was a guest speaker during the event's closing ceremonies, sharing about herself and her diagnosis of a glioblastoma brain tumor. Coulombe has undergone surgery and chemo and has had multiple MRIs in her battle against the cancer. She was, in fact, heading out immediately after the event, for another MRI in Thunder Bay, further underscoring the importance of having such a unit in Sioux Lookout to avoid the time and expense of travel for the procedure.
Christine Hoey, Chair of the Sioux Lookout Meno Ya Win Health Centre Foundation, shared in the event's program, "The people of our area in Northwestern Ontario deserve a state-of-the-art diagnostic service regardless of the remote challenges of travel and having multiple visits to a much a bigger urban centre is stressful for our patients but by providing this MRI service locally, we will be able to treat patients more thoroughly, in a timelier manner, in an environment closer to home to ensure more comfort. An MRI at SLMHC would work toward this vision by creating more efficient access to safer and essential imaging, decreased time away from community and family, and decreased financial burden, which ultimately will improve the health status and outcomes of our current and potential new patients here in remote Northwestern Ontario."
Skip to Equip Committee Chair Natalie Popovic said of this year's total and the money raised over the past 12 years, "It's thousands of people who have contributed to this event and 12 years in, our name is out there. It's a respected event, it's well-known and people are excited about it because they know the money stays local."
This year's top pledge earners were: Marlene MacDonald - $7090, Muriel Anderson - $4450, Cherie Coulombe - $3270, Kelli-Dawn Baker - $3100, Jackie Duhamel - $2900, Monique Mousseau and Cindy Henrickson - $2500 each, Laurel Hakala - $1990, Norma Koval - $1820, and Kara Kakekagamik - $1525.
All-together, these pledge getters brought in $31,225.
Kelli-Dawn Baker sponsorship chair of the event this year, said of the origin of the event, "We were challenged at a lady's night one night at curling and said, "if we put on an event like this, would you be involved?" Right away four or five of us immediately put up our hands up and said absolutely. That first year, when we were out there and I think we raised $58,000, we were absolutely thrilled with that amount and the passion grows each year and commitment to go out and find more money and challenge people to get on board."
She said fundraising for the event has definitely become easier over the years, "Especially if we're wearing something purple that has Skip to Equip on it, people are just like, "oh, Skip to Equip, yeah, no problem." They almost expect that you're coming sometime between September and November and each year the contributions are getting larger so they're seeing the value in what we're doing and especially now that it's for a bigger piece of equipment for our hospital, and for less travel for people. Like Natalie said, we all know people who have had to utilize the equipment and have had to travel on multiple occasions, not just one time to get an MRI, but then to have to go back multiple times."
The Skip to Equip Committee is seeking new members to help out with the event, anyone interested can contact them through Skip to Equip Classic Facebook page.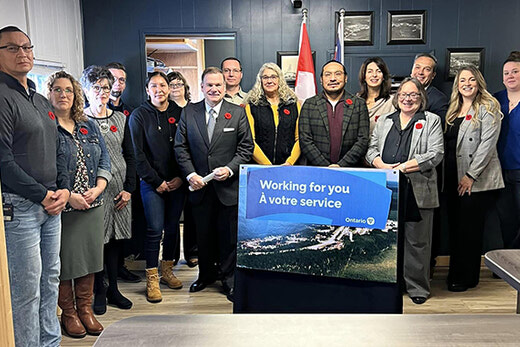 Wednesday, November 15, 2023
The Ontario government, in partnership with the Township of Pickle Lake, is opening a local ServiceOntario centre in the community...