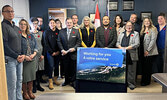 Provincial government partnering with Township of Pickle Lake to open ServiceOntario centre
Tim Brody - Editor
The Ontario government, in partnership with the Township of Pickle Lake, is opening a local ServiceOntario centre in the community.
"Our government is putting Ontarians first by finding simpler, faster and better ways to connect them to the services and information they need," said Todd McCarthy, Minister of Public and Business Service Delivery in a Nov. 7 news release. "I am pleased that ServiceOntario continues to find new ways to ensure that service delivery meets the needs of all our communities, and I am proud of the support of the Kenora District Services Board and the partnership of the Township in operating the Pickle Lake ServiceOntario centre."
The ServiceOntario centre is located in the Township of Pickle Lake office at 2 Anne Street South, allowing residents of Pickle Lake and surrounding communities to access both municipal and provincial services.
"People can access Driver and Vehicle, Health Card, Ontario Photo Card and Accessible Parking Permit services at the centre Monday to Friday, between 8:30 a.m. and noon and 12:30 p.m. to 4:30 p.m.," the provincial government shared in its news release.
"Having a ServiceOntario centre here will be a great relief not only for residents of Pickle Lake, but also Mishkeegogamang and neighbouring communities, saving people hours of travel to access critical services. As well, many travelers coming down the winter roads from the north will be able to stop in to complete important transactions before continuing their travels," said James Dalzell, Mayor, Pickle Lake.
Kiiwetinoong MPP Sol Mamakwa was in attendance for the grand opening of the ServiceOntario centre and shared on Facebook, "Today I joined Todd McCarthy, the Minister of Public and Business Service Delivery and ministry staff at the opening of the ServiceOntario in Pickle Lake.
"I was glad to welcome him to Kiiwetinoong to celebrate the partnership between the town of Pickle Lake and ServiceOntario to bring in person services closer to home for everyone who lives in the Pickle Lake area and for those who pass through on the winter roads."
"Today's commitment marks a key investment by the Government of Ontario and the Township of Pickle of Lake to ensure families and seniors living in northern and remote communities will have access to important provincial and community services like ServiceOntario. Kenora District Services Board is pleased to be part of this work, collaborating with the team at ServiceOntario, and we are looking forward to working with the community of Pickle Lake and Minister McCarthy to continue to improve access to supports and services in Pickle Lake and for surrounding communities," said Henry Wall, Chief Administrative Officer of the Kenora District Services Board.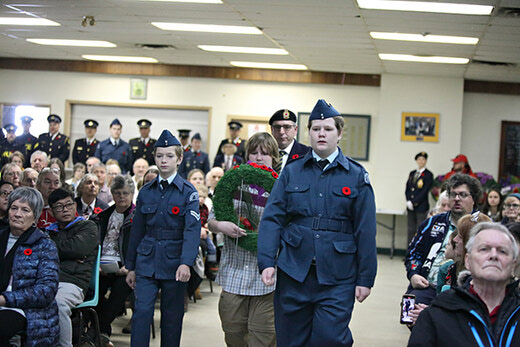 Wednesday, November 15, 2023
Community members gathered at the Edwin Switzer Memorial, Royal Canadian Legion, Branch 78 for Remembrance Day services in Sioux Lookout on Nov. 11...