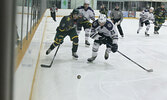 Sioux Lookout Bombers, Dryden GM Ice Dogs split weekend home and home series
Tim Brody - Editor
The Sioux Lookout Bombers and Dryden GM Ice Dogs each came away with a win after facing each other Dec. 16 in Dryden and again the following evening in Sioux Lookout.
The Ice Dogs blanked the Bombers 3-0 last Friday evening in a game full of penalties.
The Bombers came back to win 2-1 in overtime on Dec. 17. After a scoreless first period, Brady Frattinger got the Ice Dogs on the board in the second period with a goal at 11:29.
Nolan Palmer tied the game for the Bombers in the third period at 6:54.
Graeme Patrick scored a minute into overtime for the win, sending fans at the Hangar (Sioux Lookout Memorial Arena) into cheers.
Sioux Lookout Bombers Head Coach Carson Johnstone shared following the Dec. 17 contest, "It feels amazing, especially after the weekend. Their organization has shown just how much class they really have this weekend. They ran us, they injured us. All weekend they hooped and hollered, to stick it to them felt unbelievable. I'm disgusted in what I saw with Dryden Ice Dogs and honestly, it feels that much better, and I can't wait to beat them again."
Ice Dogs Assistant Coach Jake Gushue said following the Dec. 17 match, "It was a good, hard-fought game by both sides. Unfortunately, it was a little penalty heavy on both sides, but I thought both teams battled hard, and we always have a good rivalry against Sioux Lookout, so it was a good game."
Asked about Johnstone's criticism of the way the Ice Dogs played, Gushue said, "We play hard, we play physical, so does Sioux Lookout. I mean, that's part of a rivalry. We're not the organization to slam another organization, so we'll keep our comments to ourselves, we'll continue to do our thing."
Palmer said of getting the Bombers back in the game on Dec. 17, "Reenergizing. We were pushing hard, we were battling hard, we just couldn't get anything, so for that to go in, it was a big momentum boost for us."
Patrick, who scored the game winning goal for the Bombers, said, "It was awesome. Our team worked so hard all game."
Bombers goalie Jake Manners agreed, stating, "They definitely didn't make things easy on us. A lot of shots… It just feels great coming away with the win."
The Bombers will take a break until Jan. 6, when they will welcome the Fort Frances Lakers.
Manners said he's looking forward to the second half of the season, "It feels great to end on a win. Just have to rest up over the break and come back as a stronger team."
As of Dec. 19, the Bombers were sitting in third place in the Superior International Junior Hockey League.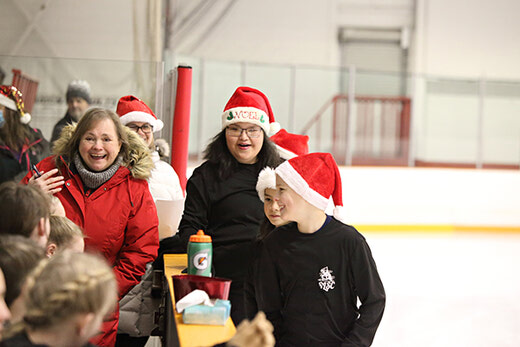 Tuesday, December 20, 2022
Members of the Sioux Lookout Skating Club had an opportunity to showcase their growth and improvement on the skills and elements they've been working on this skating season at a Fun Skate event on Dec. 17 at the Sioux Lookout Memorial Arena...