Sioux Lookout Bombers continue building for September debut
Tim Brody - Editor
Following their recent ID Camp in Ignace, Sioux Lookout Bombers Head Coach Carson Johnstone and Bombers Director of Hockey Operations Austen Hoey say they're happy with how the team is coming together.
"We had a couple practices, just skates to get the guy's feet under them and beyond that we had three games, fitness testing, we just wanted to look at what general shape the guys were in and just see if any guys could come out of the woodwork and surprise us… we found a couple diamonds. It was good," Johnstone said.
Thirty-seven players attended the ID Camp, coming from Southern Ontario, Manitoba, and from across Northwestern Ontario.
"What we were trying to do was give the players who maybe don't necessarily get looked at on a regular basis that opportunity to show themselves and they did," Hoey said, expressing his thanks to the Township of Ignace for being so accommodating.
"Right now, I'm pretty happy. I'm not going to say satisfied, but I'm happy right now with the process and way things are going. We've got, I think, 16-17 guys on cards right now, so it puts us in the position of a normal junior team looking to fill some holes. I think we're in a real good spot for the end of June. From here we're just looking for quality guys now. We're looking for some quality older guys with Junior experience that can fill out the rest of our line-up and make us strong. That's pretty much the focus now. We've got through the ID Camp and we're looking forward to Rookie Camp to see if there's any more surprises there," Johnstone added. The team's full roster will have 25 players carded.
Rookie Camp, another opportunity for hopeful Bombers prospects to show the Bombers coaches their skills, will run August 30, 31 and Sept. 1 at the Sioux Lookout Memorial Arena.
The Bombers main hockey camp will run Sept. 2, 3, and 4, also at the Sioux Lookout Memorial Arena.
"We believe that we have the pieces in place to compete in this upcoming season," Hoey said. "We're not just going to be happy to be there, we're going to be here to make some noise," he said.
"If you look at our roster, it's a lot of younger guys. We want to build a core of players that will come in and not only be Sioux Lookout Bombers, but members of Sioux Lookout, that's really important to us," Hoey added.
Hoey said the Bombers first game will be on the Sept. 30 weekend at home against the Wisconsin Lumberjacks.
The Bombers will play 50 league games this season, two of which will be at a showcase in Minnesota. The remaining 48 games will be an even split between home and away.
The Bombers are also looking forward to hosting their second Bombers Golf Classic presented by Morgan Fuels.
"It's July 8. It's going to be all day. We've got Lake of the Woods Brewing Company coming, a shot for $10,000, we've got a shot for a million dollars hole in one, it's going to be a great day. Dinner for all participants… we're going to have a couple players come up and play as well," Hoey said.
"There will be a silent auction as well. The silent auction is going to run actually the whole week. So, it will be July 4 through to the 8th and all the items will be up here at the golf and curling club for people to come take a look at and then you can bid on them throughout the week," he commented.
Hoey added that the Bombers have nearly raised the $150,000 needed to ice the team.
"The support that this organization has from the community is resounding, it's unbelievable and I'm just super excited for that," Johnstone concluded.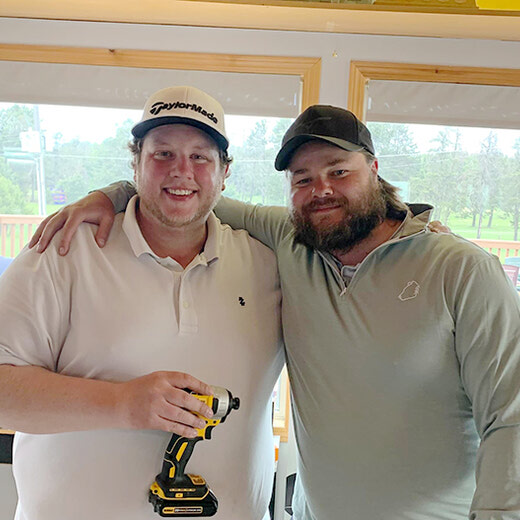 Tuesday, July 5, 2022
June 18 saw the Sioux Lookout Golf and Curling Club (SLGCC) host its annual Ironheart Golf Tournament; an event meant to test even the most avid golfer to their limits...