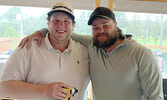 Ironheart Golf Tournament tests golfers to their limits
Mike Lawrence - Staff Writer
June 18 saw the Sioux Lookout Golf and Curling Club (SLGCC) host its annual Ironheart Golf Tournament; an event meant to test even the most avid golfer to their limits.
As event organizer and SLGCC Manager Austen Hoey explained, the concept is to test a player on several fronts, stating, "It's a little bit unique in that rather than playing the traditional nine or 18 holes, you actually end up playing 27 holes throughout the day. It's kind of a long day and it's meant to kind of test a bunch of different facets of your golf game."
Hoey laid out the basics of the tournament, explaining, "There's a bunch of different formats. You play the format known as best ball, where everyone plays their own ball and then you get the best score, and then you play alternate shot, where you and your team have to alternate shots. Finally, you play scramble, where you both take the best shot after each one. The teams are teams of two, and we broke it up into two flights, so the lower flight and higher flight."
First Flight winners were Hoey and Matt Monkman, while Second Flight was won by Don Nahachewsky and Scott Fitzgerald.
First Flight runners-up were Kendall Schulz and Cortez Favot, while Second Flight runners-up were Craig Legros and Benson Love.
First Flight's third place winners were Landon Bowen and Barry McLoughlin, while Second Flight's third place winners were Glenn Poirier and Jenna Poirier.
Looking back on the day, Hoey commented, "It was just a lot of fun all around. I think people enjoy partner golf. It was good to get out there and have some fun, and it was a pretty nice day out there as well. Shotgun start at 9 a.m. and finished up around 6 p.m… definitely a long day of golf."
Upcoming events at the SLGCC include a Canada Day Scramble on July 1, followed by a Sioux Lookout Bombers Tournament July 8 and a Men's Senior Open on July 11.
More information on SLGCC and its upcoming events can be found on the club's Facebook page, located at
https://bit.ly/3OeMB49.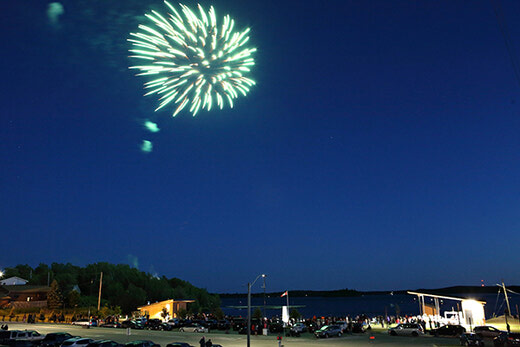 Tuesday, July 5, 2022
Community members packed the newly opened Town Beach on July 1 to view Sioux Lookout's first Canada Day fireworks show in two years...