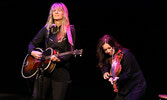 Sioux Hudson Entertainment Series delights in first half of 2022/2023 season
Tim Brody - Editor
After staring out their 2022/2023 season with musical stylings of The Trews Acoustic Trio, the Sioux Hudson Entertainment Series next showcased the work of Ballet Kelowna, who performed at the Sioux North High School Cafetorium on Nov. 17.
The MAMBO and Other Works program featured Cameron Fraser-Monroe's taqəš [tawKESH], Guillaume Côté's Bolero, and Alysa Pires' MAMBO.
Ballet Kelowna members engaged with audience members after the show, answering their questions.
Sioux Hudson Entertainment Series Committee Chair Alyson Martin said of their performance, "It was unbelievable… It was a great night."
She said audience members really appreciated the opportunity to engage with Ballet Kelowna members after the performance, "It was a really wonderful experience for everyone. People really appreciated the insight into the performances and the art form of dance in general. People can sometimes step back from dance and think that it's not something that would be accessible to them, but Ballet Kelowna really, really invited people into their world had just as much fun with the audience as the audience had with them."
The Sioux Hudson Entertainment Series next featured the Juno nominated singer-songwriting duo, Madison Violet on December 5.
"This is a group, they're seasoned veterans," Martin said of the duo of Brenley MacEachern and Lisa MacIsaac. "They've been working together for years and what they brought to the performance this evening was warmth, beautiful harmonies, and great musicianship. You can really see how they just work together to beautifully. Not only do they work with each other, but they really engage the audience. You just can't believe it until you're in the same space with them."
The Sioux Hudson Entertainment Series will next feature Amanda Rheaume on Jan. 3, described as, "A citizen of the Métis Nation, and an active member of the 2SLGBTQ+ community, Rheaume's music is rootsy and characterized by guitar-driven ballads and breaking down the boundaries of Heartland Rock."
"She is someone who, this is a familiar area for her with roots in Lac Seul" Martin shared.
Martin said the Sioux Hudson Entertainment Series Committee is very fortunate to have such a great audience.
"We have an audience that appreciates the broad range of the performing arts, so we're not limited to certain musical genre… We actually are able to bring in a number of different types of performers so that people, if they're buying single tickets, they can select the performances they want and what resonates for them, but if you get the pass, it's a really neat way to maybe take a chance on something that you wouldn't normally go to… we always talk about sipping from the cup, and it may not be your cup of tea, the fact that people were willing to take a sip from the cup to try it out is really worth its weight in gold because we've had so many times people have told us, "if it wasn't part of the series, I might not have sought this out, I may not have taken the chance," and we really feel fortunate the audience is really allowing us to have such a broad range of programming opportunities for them… that's a testament to the community, to the audience, and everyone's willingness and interest to grow in the performing arts."
Martin said tickets to their shows make a great stocking stuffer and can purchased at Eventbrite, or at the door on the evening of performances.
People can check out the rest of the Sioux Hudson Entertainment Series' lineup on their Facebook page or on their website,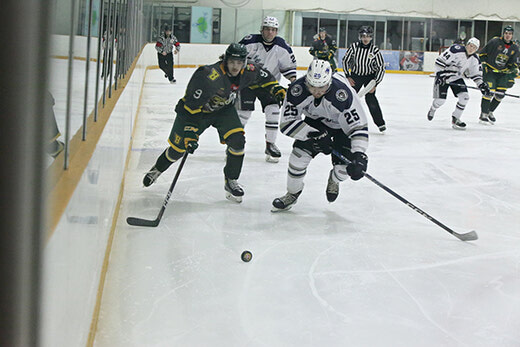 Tuesday, December 20, 2022
The Sioux Lookout Bombers and Dryden GM Ice Dogs each came away with a win after facing each other Dec. 16 in Dryden and again the following evening in Sioux Lookout...