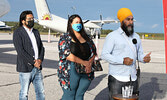 Singh visits Sioux Lookout, Neskantaga First Nation
Tim Brody -
Editor
Federal NDP Leader Jagmeet Singh was in Sioux Lookout on Sept. 13.
Before boarding a flight to Neskantaga First Nation, Singh addressed members of the media at the Sioux Lookout Airport calling out what he called Liberal Leader Justin Trudeau's "empty words."
"It's not what you say that matters, it's what you do. For six years, Canadians heard Justin Trudeau say the right things but never do them. His empty words have a real cost for people -- expensive bills, skyrocketing home prices, a worsening climate crisis and decades of inaction on drinking water advisories on First Nations," Singh shared in a Sept. 13 news release.
According to Indigenous Services Canada's web page on ending long-term drinking water advisories, as of August 28, 109 long-term drinking water advisories had been lifted since November of 2015. 51 long-term drinking water advisories remain in effect in 32 communities.
Singh said to members of the media, "Why is it in the 21st century, a G7 nation, just to put that in perspective we're one of the wealthiest nations in the world, one of the most developed economies in the world, we are in the 21st century with incredible technology, why is it then that Trudeau promised in 2015 to make sure that every community had safe drinking water, that it hasn't happened?"
He added, "This is something that can be done. I think about a city like Toronto or Montreal or Vancouver, these are huge communities. If there was a drinking (water) problem in any of these cities, they would not take six years."
Singh was joined by Sol Mamakwa, MPP for Kiiwetinoong and provincial NDP critic for Indigenous and Treaty Relations and Janine Seymour, NDP candidate for the riding of Kenora; both of whom travelled with him to Neskantaga First Nation.
"I think it's important for him and also national media to see the ground zero of boil water advisory, the ground zero of where children have to fight for access to clean drinking water.
"I'm joining him because I believe it's important to keep coming back…but I think it's important, the humanity in us, to be able to keep on coming back and keep on fighting. I think when we talk about Conservatives, when we talk about the Liberals, we cannot continue that colonial ping-pong that hurts people, that implements these oppressive policies of not getting clean drinking water and I think it's important to recognize we cannot continue with the band-aid solutions of addressing boil water advisories in the communities," Mamakwa said.
"This should not be a political issue. This should be a non-partisan issue…this is another Canada. People don't understand it. I see things, I hear things that other people don't see and when you live it on a daily basis in a community, you normalize it, and that's not acceptable. We need to be able to as Canadians, as Ontarians, be able to address that issue head on," he added.
Asked about Singh visiting the Kenora riding not once, but twice during this short election campaign, Seymour said, "The support that the leadership provides for First Nations, I think that says a lot about how committed this party is to prioritization of those with the most need nationally. So yes, out of 338 ridings, and an opportunity if he hit two a day, he would have hit 60. Instead, he's hit Kenora riding twice, and one of those was to make a commitment and an offering, so Jagmeet following in sacred traditional law, in this land, as it should be passed forward. That's very significant."
Singh was welcomed later that day by Neskantaga First Nation Chief Wayne Moonias and his community.
A Sept. 12 media advisory from the Office of Neskantaga First Nation Chief and Council informed that the First Nation would be providing Singh, "a firsthand view of the effects the 26-year boil water advisory has on health and living conditions of the community."
Issues such as social emergencies, deterioration of housing and other infrastructure, were also expected to be discussed.
"Many of these issues will be discussed in the context of the federal election taking place on September 20, 2021. The community will be using the visit to highlight attention to on-the-ground Indigenous issues on-reserve which, disappointingly, have been non-existent by all parties in this election campaign cycle," the community's media advisory stated.