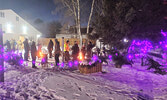 Shining a light on Woman Abuse, local event raises awareness
Mike Lawrence -
Staff Writer
Thursday November 25 saw several Sioux Lookout organizations mark the International Day for the Elimination of Violence against Women, with the Shine the Light on Woman Abuse event at St. Andrew's United Church. The outdoor event saw the United Church courtyard lit up with strings of purple lights, the official color of the Shine the Light campaign.
As Carmelia Agustin, Program Manager of the First Step Women's Shelter, explained, "Shine a Light is an event that we've been doing for five years now. We've always done it at St. Andrew's and we've always put as many purple lights up as possible, to Shine a Light (on domestic violence)."
The Shine the Light campaign, which was started in 2017 by the London Abused Women's Centre in London, Ontario, has since spread to other countries across the globe.
Part of the campaign locally consists of handing out strings of purple lights to area businesses, which they can then display in their windows. The lights are left up until Dec 6, which marks the anniversary of the shooting at Polytechnique Montréal which occurred on December 6, 1989, claiming the lives of 14 women. The hope is that the community will then see the purple lights shining around town as people go about their business, bringing awareness to the issues surrounding violence against women.
The campaign is a joint effort by seven area organizations who have formed a committee: First Step Women's Shelter, The Nishnawbe-Gamik Friendship Centre, Ontario Native Women's Association, Sunset Women's Aboriginal Circle, the Northwestern Health Unit, Ah shawah bin Victim Support Services, and St. Andrew's United Church.
As Agustin explains, "The committee is responsible for doing different events throughout the year. We just finished the Sisters in Spirit vigil (Oct 4), then we go right into the Shine a Light event. Our next event will be International Women's Day on March 8, that's the next one we are planning ahead for."
All in attendance were welcome to enjoy refreshments and snacks as they warmed themselves by the two fires which were kept stoked for the duration of the event, which ran from 4 p.m. to 6 p.m. in the St. Andrew's United Church Peace Garden.
Agustin was pleased to note that there were some new faces at the event this year and hopes that events like the Shine the Light campaign might spur anyone in need of assistance to reach out for help, stating "We hope that this event does bring more awareness. Maybe they talk to their family, or their friends, and it spreads. I'm glad to see some new faces here tonight."