Residents to get opportunity to voice opinions on proposed new federal electoral map for Ontario
Tim Brody - Editor
Sioux Lookout and area residents will soon have an opportunity to voice their opinions on a proposed new federal electoral map which has been proposed by the Federal Electoral Boundaries Commission for Ontario.
The Ontario commission will be holding an in-person public hearing in Sioux Lookout on Oct. 3 at 6:30 p.m. at the Forest Inn and Conference Centre.
The Constitution of Canada requires that federal electoral districts be reviewed after each 10-year census to reflect changes and movements in Canada's population.
Changes in the region would see the Kenora and Timmins-James Bay ridings combined into the Kiiwetinoong-Mushkegowuk riding, which would include the Municipalities of Red Lake and Sioux Lookout, the Townships of Ear Falls and Pickle Lake, and many northern First Nations. The full list can be found at https://bit.ly/3Bxxr63.
Another change in the region would be the proposed Kenora - Thunder Bay - Rainy River riding would include Kenora, Dryden, part of the City of Thunder Bay, Atikokan, Fort Frances, and Ignace. The full list can be found at https://bit.ly/3DdYX9R.
According to the Federal Electoral Districts Redistribution 2022 website (https://bit.ly/3L5YjgA) the changes introduced to Ontario's federal electoral district boundaries were developed through "an independent and non-partisan process".
"In exercising its mandate under the Electoral Boundaries Readjustment Act and given the allocation of one additional district to Ontario, the Commission found it necessary to propose many new electoral boundaries to correct wide variations in voter equality that have emerged across the province over the past decade due to population change," stated the Honourable Justice Lynne C. Leitch, Chair of the three-member commission, in an Aug. 19 news release.
Karen Bird and Peter John Loewen are the other members of the Commission who are responsible for readjusting the province's federal electoral boundaries.
"The proposal reflects Ontario's increase in population from 12,851,821 in 2011 to 14,223,942, as captured in the 2021 Census, and takes into consideration communities of interest or identity, and historic and geographic factors. The proposal can be found at redistribution2022.ca."
Kenora MP Eric Melillo said of the proposed changes, "I am concerned with the commission's proposal to remove a seat from northern Ontario. Our region has many unique and diverse needs that deserve proper representation in Parliament. Though these are simply proposed changes and haven't been finalized, it is important that our region is properly represented, and that those who want to contribute to the conversation use the avenues provided by the electoral commission to ensure their voice is heard."
People can view a map of the current and proposed electoral boundaries at https://bit.ly/3RBS8Dw.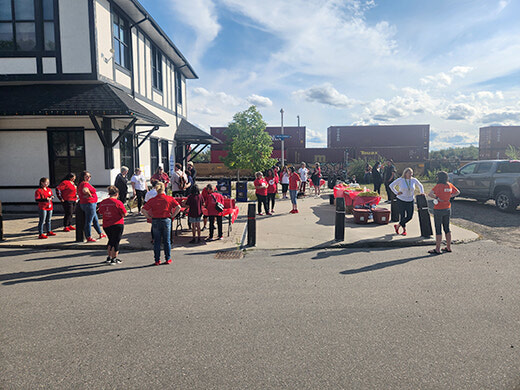 Tuesday, September 13, 2022
Members of the community joined local healthcare organizations in participating in an FASD Awareness Family Walk on September 9...