Report From Parliament Hill
Eric Melillo, MP, Kenora Riding
Dear Constituents,
It has been another busy and exciting week speaking with many residents about the local and national issues of importance to them. I was in Ignace to meet with Interim Mayor Baigrie. I was happy to host a community BBQ at my office in Dryden. It was great to see so many residents stop by to say hello, chat, and enjoy a hamburger. Thank you to everyone who attended. I also met with Sioux Lookout Mayor Doug Lawrance to get an update on local priorities and discussed how the federal government can support them.
Back to School
As summer ends and kids reluctantly pack up their water balloons and bathing suits for another year, parents across the country are preparing for the most expensive back-to-school season in recent memory.
In the past two years alone, the price of school supplies has gone up 24%. As Liberal policies drive up the cost of groceries, parents are struggling to fill their child's lunchbox. The price of bread is up 8.1%. Milk is up 6.2%. Apples are up 7.8%. Staple snacks like cookies and crackers are 12.4% more expensive than last year.
Some parents have to cancel their kids' extracurriculars to make ends meet. Others are going into debt or turning to food banks and charities to make sure their children have the back-to-school essentials.
This isn't the way it's supposed to be. That's why Canada's Conservatives are fighting to bring home lower prices for Canadians. We will cap costs and stop wasteful government spending to bring down inflation. We will cancel Trudeau's tax increases so that moms and dads can afford to buy food and give their kids the tools they need to grow and learn.
It's just common sense—so, let's bring it home.
Working for You
If you're planning to be in Ottawa and are interested in attending Question Period or taking a tour of Parliament, please let me know and my office can help reserve Question Period and tour tickets.
As always, if there is anything my office can assist you with, please call me at 807-223-2182 (Dryden) or 807-468-2170 (Kenora) or email me at [email protected].
Sincerely,
Eric Melillo
Member of Parliament
Kenora Riding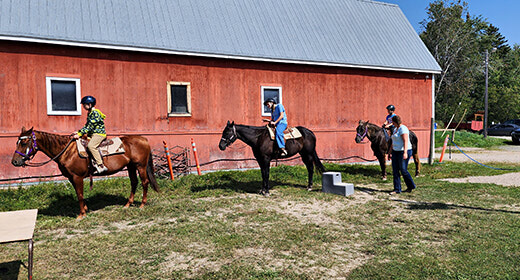 Wednesday, September 6, 2023
This past Saturday the Cedar Bay Saddle Club held their year-end show along with an awards ceremony and free BBQ...