Report From Parliament Hill
Eric Melillo, MP, Kenora Riding
Dear Constituents,
It has been another busy and exciting week speaking with many community members about the local and national issues of importance to them. I was in Ignace to meet with Interim Mayor Baigrie. I received an update on local priorities and discussed how the federal government can support them. I was also in Dryden to attend the Fall Fair. It was great to chat with residents and see many more come out to support local agriculture in the community.
Liberals must stop delays for First Nation policing
Recently, I joined my Conservative colleague, MP Larry Brock, to meet with the Chiefs of First Nation police services from across the country to discuss the challenges they are facing providing support to the communities they serve. They shared how the federal government is chronically underfunding them and placing unfair conditions, such as not being able to create specialized crime units, on their funding that interferes with their ability to keep their communities safe.
First Nation policing is not a priority for this Liberal government. These police services have been asking for legislation to declare their work essential and to have unfair funding conditions removed. The government promised to bring forward this legislation three years ago. Instead of putting in the work to table a bill, the Liberals choose to blame others for their delays.
To make matters worse, the Liberals continue to drag their feet on reaching a deal with three First Nations policing services in Ontario (Treaty Three Police Service, United Chiefs and Councils of Manitoulin Anishnaabe Police Service, and Anishinabek Police Service). They have been without an agreement since March 31st.
Together these First Nations police organizations serve 45 First Nation communities and around 30,000 people across northern Ontario. Less than one year ago, after the mass killing at James Smith Cree Nation in Saskatchewan, Prime Minister Trudeau promised to work toward making Indigenous policing an essential service in Canada.
The lack of action on negotiations with these three Ontario First Nations policing organizations demonstrates the Prime Minister's fondness for governing by press conferences rather than taking responsibility for doing the real work. Their delay is putting the lives of Indigenous people at risk. Conservatives are calling on the Liberal government to do what they promised and support First Nations policing so that people can feel safe in their communities.
Working for You
If you're planning to be in Ottawa and are interested in attending Question Period or taking a tour of Parliament, please let me know and my office can help reserve Question Period and tour tickets.
As always, if there is anything my office can assist you with, please call me at 807-223-2182 (Dryden) or 807-468-2170 (Kenora) or email me at [email protected].
Sincerely,
Eric Melillo
Member of Parliament
Kenora Riding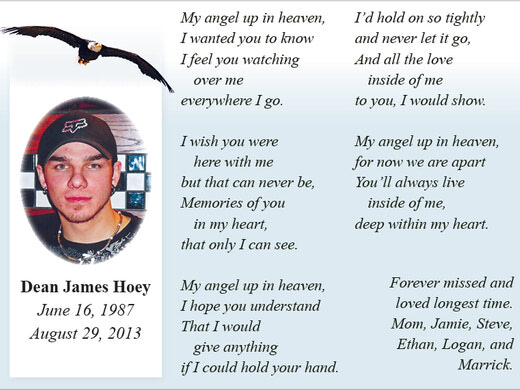 Thursday, August 31, 2023
My angel up in heaven, I wanted you to know I feel you watching over me everywhere I go...