Report From Parliament Hill
Eric Melillo, MP, Kenora Riding
Dear Constituents,
Recently, I met with Jay Barnard to talk about his personal journey through addictions treatment and the important work he's doing to empower recovery in northwestern Ontario. September 15th will be the first Recovery Day in Kenora. Let's bring the community together and support those struggling to find help.
I also joined my Manitoba colleagues for caucus meetings in Churchill to discuss regional issues and start to prepare for when the House of Commons resumes in September. We also met with Churchill Mayor Michael Spence, Parks Canada officials, Port of Churchill, and the Churchill Chamber of Commerce.
June Inflation Data
After eight years of this Liberal government, Canadian households are facing thousands of dollars in new costs because of massive inflationary deficits and punishing tax hikes. The recent inflation data from Statistics Canada confirms that food prices continue to rapidly increase with no sign of letting up. Prices at the grocery store are up more than 9% since last year.
On top of that, mortgage interest costs are up more than 30% since last year, marking the highest increase ever recorded for the fourth month in a row. While national data states gas prices have decreased, we know that as the Prime Minister continues to bring in his 61 cent/L tax, he will drive it back to record highs in the years to come.
Liberals who say that inflation is no longer a problem are ignoring every Canadian who needs to buy groceries and needs a place to live. Canada's Conservatives will axe the Liberal taxes on gas and groceries and end Trudeau's inflationary deficits to bring home lower prices for Canadians.
Working for You
If you're planning to be in Ottawa and are interested in attending Question Period or taking a tour of Parliament, please let me know and my office can help reserve Question Period and tour tickets.
As always, if there is anything my office can assist you with, please call me at 807-223-2182 (Dryden) or 807-468-2170 (Kenora) or email me at [email protected].
Sincerely,
Eric Melillo
Member of Parliament
Kenora Riding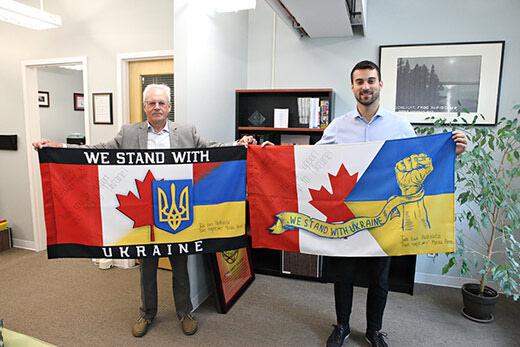 Wednesday, July 26, 2023
Sioux Lookout Mayor Doug Lawrance and Kenora MP Eric Melillo display flags sent as gifts to the Municipality of Sioux Lookout from its sister city in Ukraine, Vashkivtsi...