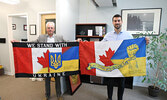 Gifts from sister city
Sioux Lookout Mayor Doug Lawrance (left) and Kenora MP Eric Melillo display flags sent as gifts to the Municipality of Sioux Lookout from its sister city in Ukraine, Vashkivtsi.
Melillo, whose office has been a point of contact between the sister cities, said the gifts included these flags signed by Mayor Mykola Perch to thank Sioux Lookout for their support.
The Municipality is choosing gifts to send back and will be reaching out to the public with an opportunity to contribute.
The Municipality of Sioux Lookout entered into a sister city agreement with Vashkivtsi last August.
Municipal Manager of Recreation and Culture Rony Chakraborty shared in his report to Council at the time, "On April 19, 2022, through Mayor Lawrance, the Municipality of Sioux Lookout received an email from MP Melillo's office about the recent initiative of MP Brock's highlighted in the House of Commons regarding Sister City Agreements with similar towns of Ukraine.
"This is an agreement with cities and towns in Ukraine, where Canadian Towns and Municipalities build a relationship with a same size town/municipality in Ukraine."
Chakraborty outlined similarities between the two communities in his report:
Vashkivtsi and Sioux Lookout are almost same sized town with population being 5400 and 5800 respectively.

Sioux Lookout is the home to Blueberry Festival that has a legacy of its own and Vashkivtsi is famous for the Malanka Festival.

Sioux Lookout provides health services to the community and First Nations communities to the North. Bukovinian State Medical
University, one of the finest medical institute of the country is in Vashkivtsi.

Population demographics of both towns are similar. Enhancing Youth engagement between both communities would be a benefit.

Both towns being places of great cultural background, yearly exchange programs could encourage more tourism, trade, influx of diversity and economic growth.

Sioux Lookout has always been a great support to the game of Hockey. Chernvitsi district and Vashkivtsi has been a great contributor to the game of Hockey as well. This agreement could possibly create an exchange program of players between the two towns.
Wednesday, July 26, 2023
More than 40 people participated in a free Colour Run organized by The Municipality of Sioux Lookout on July 22...