Report From Parliament Hill
Eric Melillo, MP, Kenora Riding
Dear Constituents,
I would like to start by congratulating all the mayors, and councillors across the region who were officially sworn in this week!
High Gas Prices
I've been hearing from many people about the consistently high gas prices across the region. I have submitted information about the high prices to the Competition Bureau.
Further, there is no doubt that the carbon tax and inflationary crisis we've experiencing is driving the price of gas up. On April 1st, the carbon tax is set to increase from $50 a tonne, to $75 a tonne, and will only drive the cost of living up more.
Earlier this fall, my colleagues and I put forth a motion calling on the government to halt all tax increases, but unfortunately all Liberal and NDP members voted against it.
The carbon tax needs to be scrapped, when the cost of gas, groceries and home-heating are at record highs the last thing anyone needs is to pay more taxes.
Children's Pain Medication Shortage
Months ago, my colleagues and I began to ring the alarm bells over the shortage of children's pain medication across the country.
After months of advocating for the government to secure additional pain medication from other countries, I'm glad to know that the government took our advice and has finally secured foreign children's pain medication and will be working quickly to get it on Canadian shelves.
National Diabetes Day
November 14th marked national diabetes day, I appreciated the opportunity to sit down with youth ambassadors from the Juvenile Diabetes Research Foundation. They shared their experiences as youth living with Type 1 Diabetes, and their goal to find a cure. We were able to discuss further ways the government can support those living with T1D, and the search for a cure.
Working for You
If you're planning to be in Ottawa, and are interested in attending Question Period or taking a tour of Parliament please let me know and my office can help reserve Question Period and tour tickets.
As always, if there is anything my office can assist you with, please call me at 807-223-2182 (Dryden) or 807-468-2170 (Kenora) or email me at [email protected].
Sincerely,
Eric Melillo
Member of Parliament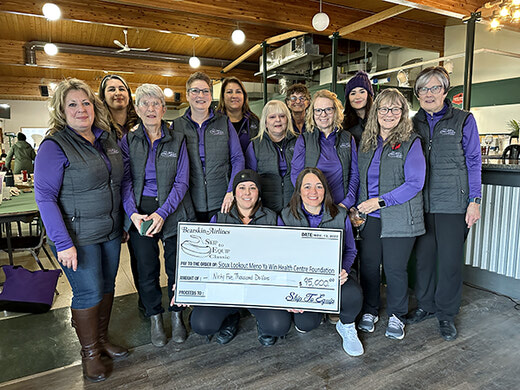 Wednesday, November 16, 2022
The 11th Annual Bearskin Airlines Skip to Equip Classic has raised $95,000 which will be used to replace the hematology analyzer for the Sioux Lookout Meno Ya Win Health Centre's lab...