Report From Parliament Hill
Eric Melillo, MP, Kenora Riding
Dear Constituents,
I was happy to be in Ottawa last week alongside my Conservative colleagues to fight for Canada's future.
Restoring Pre-Pandemic Travel
This week, my colleagues and I introduced a motion in the House of Commons calling on the government to return to all pre-pandemic travel rules, including eliminating the required use of the ArriveCan app.
The tourism industry has had an incredibly difficult few years, and it is time for Canada to open back up to international travelers and ensure Canadians wanting to cross the border for business, leisure or visiting family are easily able to do so.
I hope to see the government accept this Conservative motion, follow the science and remove pandemic travel restriction measures.
Firearms Registry
Recently the Liberal government re-introduced the 20-year-old long-gun registry disaster that failed to combat gun violence then and will fail to address gun violence now.
The majority of gun violence is committed with illegally obtained firearms, and this policy does nothing to reduce the trafficking and acquisition of weapons by criminals. Rather, this policy targets and burdens hunters, sport-shooters and all those who legally obtain firearms.
I will continue to stand up for law-abiding firearms owners in the Kenora riding. I believe rather than implementing a policy that experts know doesn't stop gun crimes, that the government should be funding police anti-gang units and the CBSA to help prevent cross-border smuggling.
Historic Gas Prices
For the first time in Canadian history the average gas price in Canada was over $2.00 per litre, and the prices are expected to continue increasing. Alongside my colleagues I will continue to call for the government to scrap the carbon tax and implement an immediate GST break on gas.
Working for You
If you're planning to be in Ottawa and are interested in attending Question Period or taking a tour of Parliament, please let me know and my office can help reserve Question Period and tour tickets.
As always, if there is anything my office can assist you with, please call me at 807-223-2182 (Dryden) or 807-468-2170 (Kenora) or email me at [email protected].  
Sincerely, 
Eric Melillo 
Member of Parliament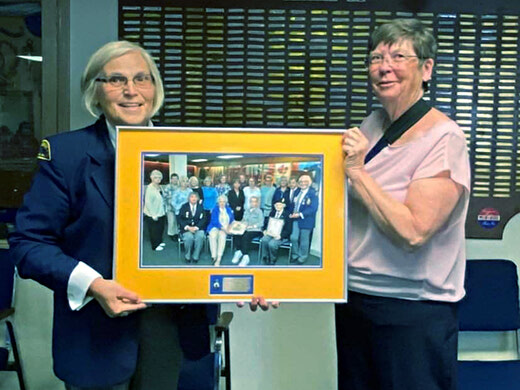 Tuesday, May 24, 2022
At the May 10th Legion Ladies Auxiliary meeting, the members welcomed Cathy Kiepek as a guest to celebrate the life of her mom, Pat Edye, who was our Charter member from 1949...