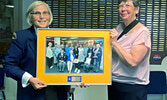 Community Corner:
Remembering Pat Edye
At the May 10th Legion Ladies Auxiliary meeting, the members welcomed Cathy Kiepek as a guest to celebrate the life of her mom, Pat Edye, who was our Charter member from 1949. The photo was taken at the meeting celebrating her 70th anniversary pin. With Pat's passing and the restrictions of the pandemic, this presentation was put on hold until now. The photo will be on display in the Legion Upper Hall. Pat was an active member of the Legion Auxiliary right to end of her life. Her contributions and efforts will always be greatly remembered.
Submitted by Charron Sippola, Legion Ladies Auxiliary President

Tuesday, May 24, 2022
Ice out was officially declared for Pelican Lake on Monday, May 16...