Red Dress Day commemorated in Sioux Lookout
Tim Brody - Editor
Red Dress Day was observed in Sioux Lookout on May 5 with a special ceremony at the town beach.
The day raises awareness of Missing and Murdered Indigenous Women and Girls (MMIWG) and Two-Spirit, lesbian, gay, bisexual, transgender, queer, intersex, plus (2SLGBTQI+) people.
Romaine Lyon, Elder for Sunset Women's Aboriginal Circle (SWAC) and the Nishnawbe-Gamik Friendship Centre, led participants in smudging, a water ceremony and a round dance.
Lyon said it was good to see so many people attend the ceremony.
"I think it's really good to acknowledge everybody. It's good that we do have a day for this," she said.
Lyon sang five songs during the ceremony and was joined in drumming by Treena Ashmugeesha, the Indigenous Prenatal and Postnatal Support Worker at SWAC.
"The first song was Anishnawbe Equay, for the women. The second song was the parent song for all the parents to remember them also. The third song was for the children because they grew up without their parents too and remember them and they're going to be our leaders. The fourth song was the water song because women are life givers and then the fifth song was the Creator song to send our prayers to the Creator," Lyon shared.
The event was organized by Sioux Lookout's Violence Action & Awareness Committee (VAAC), which includes: Sunset Women's Aboriginal Circle, Ah-shawah-bin Victim Services, NWHU, NGFC, First Step Women's Shelter, St. Andrew's United Church.
Ashmugeesha, who wore a shirt commemorating Rena Fox, shared, "Some of the women I acknowledge and think of on days like Red Dress Day are from my own home community of Mishkeegogamang Ojibway Nation. They include Rena Fox, Viola Panacheese, Sarah Skunk and Charnelle Masakeyash. They are all women who have families and friends that miss them and have to live without them in their lives every day. Their loved ones have more questions than answers and unfortunately it has been this way for such a long time. Which is why movements like Red Dress Day are so important. They bring these issues to light and give people the opportunity to share their stories and remind people that they live with this every day; not just on Red Dress Day. They go through their lives not knowing what happened or where their loved ones are."
Another event participant named Audrey Anderson and Tracey Friesen, local women whose deaths remain unsolved, as others to be commemorated that day.
"Any kind of event that can bring a community together to share stories and space with Indigenous people is where you will see growth and change. It starts at the grass root level and grows from there. It was a beautiful day to do just that with the people of Sioux Lookout," Ashmugeesha said. "We are all so appreciative of the support and thankful to all those that came out and joined us in the round dance. Our committee is grateful and humbled by elder, Romaine Lyon, for all of the amazing work she does and the teachings she shares with everyone."
"If anyone has any information on any MMIWG2S+, please contact the appropriate resources and help us bring our women home," she added.
Provincial Opposition Leader Marit Stiles and NDP MPP (Kiiwetinoong) Sol Mamakwa, critic for Indigenous and Treaty Relations, made the following statement on Red Dress Day:
"On this Red Dress Day, we come together to stand in solidarity with Indigenous peoples across the country. We recognize the urgency in correcting the ongoing systemic crisis of missing and murdered Indigenous women, girls, and two-spirit (MMIWG2S+) people.
Red dresses are now used to represent the absence of missing and murdered Indigenous women, girls and two-spirit people from their families and communities. The presence of these dresses in Indigenous community spaces are a visual reminder of those who were taken due to racialized and gendered violence.
We have seen firsthand the devastating impacts of this crisis. The pain of losing a loved one in this way is something that no one should endure, and for Indigenous communities, this pain is all too common. The recent damning Ombudsman's report on Misty's story further highlights the ongoing challenges Indigenous women, girls, and two-spirit people face.
The provincial government has a crucial role in fixing this crisis, starting with fully acknowledging and respecting the human and Indigenous rights violations that are at the root of violence against First Nations, Inuit, and Métis women, girls, and two-spirit (MMIWG2S+) people.
We echo the call made by NDP MP Leah Gazan to recognize MMIWG2S+ as a national emergency.
We cannot turn a blind eye to the disproportionate violence, racism, and poverty experienced by Indigenous women, girls, trans, gender diverse, and two-spirit people. It's time for all levels of government in Canada to acknowledge the root causes of gender-based violence, confront the impacts of racism and take responsibility for the genocide and colonial violence that have targeted Indigenous peoples for generations.
Today, we remember the lives taken, and we, the Ontario NDP, commit ourselves to building a future where Indigenous women, girls, and two-spirit people can live safely, free from violence and discrimination."
Also on May 5, Marc Miller, Minister of Crown–Indigenous Relations, Patty Hajdu, Minister of Indigenous Services, Dan Vandal, Minister of Northern Affairs, Minister responsible for PrairiesCan and CanNor; and the Marci Ien, Minister for Women and Gender Equality and Youth; issued the following statement, which reads, in part: "The Red Dress reminds us to uphold and honour the memory and spirits of all missing and murdered Indigenous women, girls (MMIWG) and Two-Spirit, lesbian, gay, bisexual, transgender, queer, intersex, plus (2SLGBTQI+) people. Our thoughts are with the families, survivors and communities affected by this national crisis, as well as all other victims of violence towards Indigenous women, girls and 2SLGBTQI+ people. We acknowledge the courageous voices of families and survivors who have shown unwavering dedication in finding truth, ensuring justice for loved ones, and protecting the seven generations ahead.
Red Dress Day was inspired by Métis artist Jaime Black's The REDress Project, an art installation providing powerful and emotional visual reminders of the national crisis of missing and murdered Indigenous women, girls and 2SLGBTQI+ people. The installation focuses on the hanging of red dresses to highlight the absence of loved ones who lost their lives to the national crisis of gender-based violence… We are committed to working in partnership with Indigenous families, survivors, leaders, and partners, as well as with provinces and territories, to make transformational change that will end this national crisis."
On May 5, Sioux Lookout First Nations Health Authority asked everyone to, "wear red to draw attention to the more than 1,000 missing and murdered indigenous women, girls, and two-spirit persons in Canada."
SLFNHA further shared that for anyone seeking help, the following numbers are available:
NAN HOPE - 1-844-626-4673
Crisis Line Indian Residential School Survivors and Family Crisis Line - 1-800-721-0066
Hope For Wellness Chat - 1-855-242-3310
Sioux Lookout Meno-Ya-Win Crisis Response - 1-866-888-8988
Talk4Healing - 1-855-554-HEAL (4325)
First Step Women's Shelter - 1-800-465-3623
Tikinagan Child and Family Services Crisis Line - 1-800-465-3624
Nahnahda-wee-ee-waywin (Sioux Lookout Sexual Assault Centre) - 1-833-864-4848.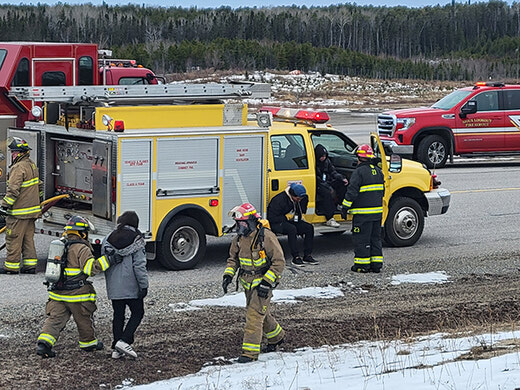 Tuesday, May 9, 2023
Members of Sioux Lookout's emergency services have been taking part in recent training exercises to better serve the community...