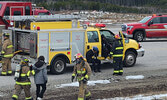 Members of Sioux Lookout's emergency services conduct training exercises
Tim Brody - Editor
Members of Sioux Lookout's emergency services have been taking part in recent training exercises to better serve the community.
Members of the Sioux Lookout Fire Service conducted training on the ice east of Frog Rapids on April 29, while on April 20, members of the Sioux Lookout Fire Service joined members of the Ontario Provincial Police and Northwest EMS (ambulance) for emergency exercises at the Sioux Lookout Airport on April 20.
Jeremy Funk, Emergency Services Manager/Fire Chief for the Municipality of Sioux Lookout commented on the ice rescue training, "The planned training exercise was a success. The training was good, everyone completed many repetitions, and most importantly, everyone was safe and confident in what they were doing."
"Firefighters used all of the Ice Rescue equipment to practice a variety of situations. They used the required personal protective equipment (PPE), Ice Rescue suits, PFDs, reaching aids, throw bags, and a variety of specialized equipment specifically set up and intended for ice rescue," he explained.
Funk said there were two parts to this training exercise, a classroom component that had been completed previously, and the on-ice portion on April 29.
"We try to conduct this training for the majority of the members at least twice a year, as conditions and schedules permit: typically once in late fall and then again in early spring. Both groups on Saturday were comprised of both newer and more experienced members of the Fire Department – which makes for a great training session," Funk said.
"I would like to thank the members of the Fire Department who gave up their Saturdays to train, as well as the community members who came by to observe and support the Department. Many thanks to Vera Kameda-Lacroix who graciously allows us the use of her beach to access the ice for these training exercises," Funk added.
Sioux Lookout Airport Manager Ben Hancharuk said the training exercise at the airport on April 20 and its mock scenario, "involved emergency responders, airport staff, and related stakeholders responding to an "airplane crash."
He said the exercise went well, explaining, "The Airport is legislated to test its Emergency Plan annually via a table-top exercise, and perform a full-scale exercise every four years."
The training exercise ran for approximately 3 hours including a post exercise debrief with participating agencies.
"We appreciate the cooperation of the local emergency response personnel in carrying out the mock emergency," Hancharuk concluded.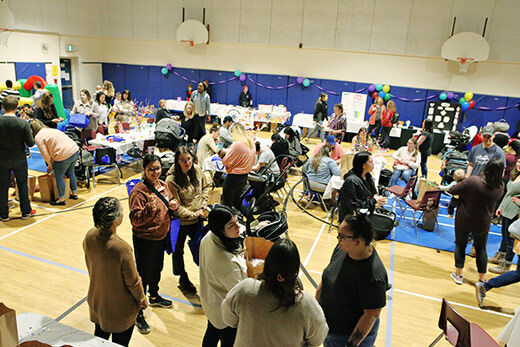 Tuesday, May 9, 2023
The Sioux Lookout Child & Family Health Network presented a Community Baby Shower on May 6 at Sacred Heart School...