Q & A with the Kiiwetinoong candidates
Tim Brody - Editor
Voters will head to the polls on June 2 and five candidates have stepped forward in the Kiiwetinoong riding looking for your vote.
To help area residents learn more about the individuals seeking to represent them, The Sioux Lookout Bulletin asked the Kiiwetinoong candidates the following questions: 1. Why have you decided to run for the position of Kiiwetinoong MPP and what does a vote for you mean? 2. What should voters know about you? 3. What experience and qualities would you bring to the job that you feel would make you a good MPP? 4. What do you feel are the major issues on the minds of people in this riding and how do you and your party plan to address them? 5. Is there anything else you would like to say to voters?
The following are the candidates' responses in the order in which they were received.

Sol Mamakwa (incumbent) – Ontario NDP
1. I'm grateful to have been given the support of our local party members to run again as the NDP Candidate for Kiiwetinoong. I am running again because the issues of day-to-day importance to residents of Kiiwetinoong continue to not be heard at the legislature. I know the issues facing people in the north well and I remain motivated to advocate for all of the people of Kiiwetinoong at Queen's Park.
2. I originally come from Kingfisher Lake but have worked and raised my family in Sioux Lookout. My first language is Anishininiimowin (Oji-Cree) and I was raised on the land with my family.
3. Throughout my career, I have been an advocate to improve the way public services are delivered in education and health care. My decades of experience working in these fields has taught me that the improvement of all public services must be done across jurisdictions and policy fields and that is the perspective I have brought to my work as a legislator.
4. For too many families, it is getting harder and harder to pay the bills and make ends meet. As people in the north, we feel these high costs first and have always paid more for essentials, whether its fuel or food.
Over the last four years, the cost of buying a home in Ontario has doubled, rent has gone up by $200 a month, and prices keep climbing at the grocery store. Despite the PC government promises of lower gasoline and hydro prices, gasoline prices have climbed as much as 75 cents a litre and electricity rates continue to climb.
Under the Ontario NDP's northern platform (https://bit.ly/37UauOA):
Ontario will hire 300 doctors in Northern Ontario, including 100 specialists and 40 mental health practitioners. Northerners will have less highway medicine, and will get mental health care with their health card, not their credit card.
A Northern Health Travel Grant Guarantee will ensure Northerners never have to wait longer than 14 days to be paid back for health travel.
The overdose crisis will be declared a public health emergency, and additional supervised consumption sites will be expedited. The NDP will also invest in treatment, including detox and rehab beds.
Northern communities will get more training and job opportunities in the trades, mining, and in the film and television sector. Ontario will open community-run employment and training centres.
Instead of Doug Ford's cut to Canadian content rules for transit projects, more trains and streetcars will be built in Northern Ontario.
High-Speed internet will be available province-wide by 2025.
5. I want to thank everyone who has supported me in the past, reached out to my office during my term and shared their stories with me. The communities across Kiiwetinoong are very diverse and I did my best to raise the many issues that are important to the people across the riding. But my work won't be done until we have equitable public services, affordable housing for everyone who needs it and an economy with sustainable jobs that maintain our environment. No one should be left behind.

Alex Dornn – New Blue Party of Ontario
1. I was alarmed by the loss of freedoms and financial hardship caused by the government's mishandling of the COVID pandemic. We need some sensible changes.
2. I am a Professional Engineer with over 25 years' of industrial experience, including pulp and paper and mining. I am currently working remotely on various engineering projects from my home. My wife, Kathleen and I have been married for 25 years and we have 4 grown children. We live in Dryden, which is the halfway point between Sioux Lookout and Red Lake areas. 3. I have learned the value of team effort and getting input from every member, regardless of their position. If elected, I plan to apply the integrity, efficiency, professionalism that I have learned in engineering to the political office.
4. Tourism and Sport fishing have been devastated in our riding. Tourists – once they are scared off – are difficult to lure back. The Ford government has sided with PM Justin Trudeau and refused to listen to the people and have put very unjust laws in place to penalize protesters.
5. Education and job opportunities for First Nations in my riding is a primary concern of mine. I anticipate, that we are entering a gold mining boom in the region, due to the spike in gold prices. It is important to take advantage of these opportunities and maximize the benefits to the First Nations, who live where the resources are located.
I used to work for Domtar in Dryden, and was dismissed because of confidential matters regarding the mercury contamination. I spent several years researching cleanup of the mercury contamination in the Wabigoon and English River systems. Because of my work history, I have insider knowledge on efficient ways to thoroughly clean up this contamination. I have been in discussions with some of the First Nations affected.

Manuela Michelizzi – Ontario Liberal Party
1. I have decided to run for the position of Kiiwetinoong MPP because I feel that this is a very important time in Ontario. We have been dealing with a pandemic for the past two plus years and life seems to be getting harder and harder for Ontarians, but especially those of us living in the far north.
We cannot have another four years of silence from our member of parliament on the issues that matter most to individuals and families in our riding. In the past four years we have seen the cost-of-living increase exponentially. We have witnessed our highways get more and more unsafe, especially during the winter months. We have waited longer and longer to receive health and mental health services. We have watched our seniors and vulnerable populations become increasingly isolated due to lengthy "stay at home" orders which compromise dignity and respect to those who have worked entire lives. We have seen our front-line workers, nurses and PSW's work shorthanded and in conditions that are not adequate to perform their work effectively. We have watched our children fall farther and farther behind because of the longest school closures in Canada.
Now more than ever, we need a strong, and commanding voice at Queen's Park. A voice that presents our needs and our frustrations. A person that will not back down and ensure life only gets easier and more affordable. Because, like all of you, I live here. I am raising my children here. I am watching my relatives and friends struggling to take care of the aging population. I am driving the same highways to get to appointments. I am waiting in the Emergency Room or to receive specialized services. I am seeing the environment deteriorate and the climate affect our quality of life. We are all in this together and I believe that the Liberal Party is the only party that has the Platforms to initiate change for the better and the only party with the intention to follow through with those plans.
2. I was born and raised in the north and lived most of my life in Thunder Bay, ON. I attended publicly funded schools and graduated from Lakehead University in 2004. I spent a few years traveling and working as a teacher in various places, including overseas. I have called Sioux Lookout home for the past 13 years and fell in love with this community and the far northwest. The people I have met here have and my colleagues at Sacred Heart School have become like family. It is all of you that give me the passion to want more; to want better.
As a teacher, I have seen first hand the uniqueness of our needs and how children are affected. I have spent many years improving my teaching practice to include and emphasize Special Education practices and instructional approaches that help foster improved literacy and numeracy in children. I have advocated for more adequate mental health and specialized services for children with exceptionalities and will continue to do so if elected.
I have been an active volunteer in our community since arriving here in 2009. I am usually recognized as the "Zumba" lady as I have held dance classes for a number of years for children, youth and adults. I have sat on numerous community club boards and have always strived to make our town the best place it could be. Now, I believe it's time to take my enthusiasm for family, friends, community and the north to Queen's Park.
3. As a child, I remember my grade five teacher introducing us to the idea of saving the environment. I recall my classmates and I putting on a school play and raising money to buy an acre of the Amazon rainforest, which we accomplished. That ignited the spark in me to make the world a better place.
I attended university with the dream to enter politics in some capacity. Studying the political structure of Canada, the lasting and generational effects of colonialism, human rights and civil liberties; the fire was fueled by a desire to speak out and even fight for not only equality but more importantly equity for all. Simultaneously, I fell in love with education and teaching children filled my heart with joy. I became a teacher knowing it was a very important position to hold in society as someone that facilitates the growth of the whole child. This was my special way of making the world a better place.
Only a few months ago, I heard Mr. Steven Del Duca speak at the Ontario English Catholic Teachers Association Provincial Annual General Meeting. For the first time in a very long time, that political fire in me was ignited again. The values of the new Ontario Liberal Party align with mine. I want to live and raise my children in the Ontario that the Liberal Party is striving to mold. I am confident that my education, my experience as an educator, an executive union member, a volunteer and active community member; my mission to ensure reconciliation with our Indigenous brothers and sisters, my love for nature and the environment, my desire for adequate health and mental health services and my passion for education give me the qualities to represent the people of this great riding.
4. Our Liberal Platform, "A Place to Grow" addresses many of the fundamental and core issues affecting all ridings in the province. This platform brings to light the most important concerns in the minds of people across the province. Our Northern Platform, takes those fundamental matters and adds to the unique needs of the north.
To ensure space for this article, our platform addresses Health Care and Mental Health, Transportation, Affordability, the Housing Crisis, Childcare, the Environment, Education and Finance and can be found on my website manuelamichelizzi.ontarioliberal.ca. I am very proud of the platform our party has put forth and I believe no stone has been left unturned. We have the plan and the resources to ensure it's implementation. The Choice is Yours. There is not another platform that can compare.
5. I would like to thank all those that have sent messages of congratulation and have signed up to support my campaign. It means a lot to me to have so many people on board with the new Liberal plan to making our riding grow and thrive. Please follow me on social media and I look forward to speaking to as many constituents as possible over the coming weeks.

Suzette Foster – Green Party of Ontario
There is more than one reason behind my decision to run for the Green Party in the provincial election. One is to have my community's concerns brought to the forefront along with the concerns of the broader riding. I believe a vote for me, and the Green Party of Ontario, will do this. I also bring a unique perspective as a candidate. I've lived in the Red Lake area since 1987, having been born and raised in Manitoba before that. Not only have I experienced two provinces, I have also walked between two cultures. I am a beloved adopted daughter of Irish/Swedish parents. I am also a lost daughter of an Ojibway residential school survivor, one of the "Sixties Scoop" babies.
I believe that living in beautiful northwestern Ontario for 35 years has given me insight into issues that are important to people across the Kiiwetinoong riding. I have experienced first hand the challenges of living "at the end of the road" in northern Ontario.
Issues that are foremost on many of our minds are more apparent than ever because of the flooding that is happening in many places in our riding, including my own community and my own home! Infrastructure and maintenance to the single access highways up to Red Lake, Sioux Lookout, and smaller communities around the region has never been more important for supply and transport of goods and services to our area.
I look forward to bringing my voice and the cooperative spirit of the Green Party of Ontario to help rebuild vital infrastructure in our region.
I would like to let voters in Kiiwetinoong know that a vote for me is a step in the right direction towards people powered change. The Green Party of Ontario offers new solutions to old problems!
Dwight Monck – PC Party of Ontario
1. I'm Dwight Monck and I currently am proud to have served the people of Pickle Lake as their Mayor.
In my capacity as mayor, I have seen first hand how working harmoniously with the Province can benefit our communities, all of the riding, not just Pickle Lake. We have lacked good positive representation and I plan to be that person at Queen's Park.
I believe if you live in this area, you are very fortunate to live in the most beautiful part of the province, but I also believe you deserve to have the best quality of life.
Being a good positive influence for the people of Kiiwetinoong is my priority and ensuring they enjoy their lives here in the riding, is my number two.
2. Here is a bit of my background and it might explain my passion for living here in Kiiwetinoong, and why having a good quality of life for everyone who chooses to live here is important to me.
To the folks who call the riding of Kiiwetinoong home, I would like to introduce myself as the PC Candidate for the upcoming provincial election in June.
My wife Karen and I have lived in this riding for 22 years. Four of those years in Sioux Lookout and the last 18 years in Pickle Lake. I have had a career in policing with the Ontario Provincial Police and as a commercial pilot with both Wasaya Airways and North Star Air. Along with being the current Mayor of Pickle Lake, we also own two small businesses.
I truly believe my knowledge of the riding of Kiiwetinoong and the people who reside here, will enable me to speak to everyone and be the conduit needed to take our issues to Queen's Park. In the next few years, it will be crucial to have strong leadership to bring our area back to pre-Covid prosperity. Our riding will only get what we need and deserve if our elected MPP is sitting at the same table as the presiding government. During the last 4 years, there has been a huge disconnect between our riding and the people making the decisions on our behalf. We need to be part of this process!
During the next few weeks, I will be travelling extensively around our riding and hope to meet as many of you as I can. Please reach out: [email protected] or 1-807-374-0095. I want to hear your concerns and ideas. After all, it's your ideas that need to be heard.
3. My municipal leadership as a mayor and my work with the Northwest Patrol brought me to the far reaches of this riding, where I learned so much about my friends in the First Nations and their culture.
I will work hard and ensure this riding can achieve the greatness it deserves, but it takes leadership, drive and motivation. I will be your effective voice at Queen's Park.
4. I've been at thousands of doorsteps, and if I missed yours, please give me a call or email me. I want to hear from you. The folks I have talked to have shared their concerns that they feel are not currently being heard.
The largest concern I have heard is that they are not being heard at Queen's Park, there seems to be a disconnect. No one even knows who we are up here. I am going to fix that so we can have a voice at the table to discuss healthcare, longterm care and travel subsidies. Right now, the people in my riding do not have a voice. I am going to change that.
5. I want to tell the people of Kiiwetinoong, we are the best kept secret in the province. We have an enviable life with all the natural resources, but we must progress, our children should be able to stay in our communities, have good paying jobs, build wonderful communities and enjoy a healthy lifestyle. To do that, you need a strong voice at the government table.
Vote for Dwight Monck – and please vote, not voting means more of the same and we can't afford that.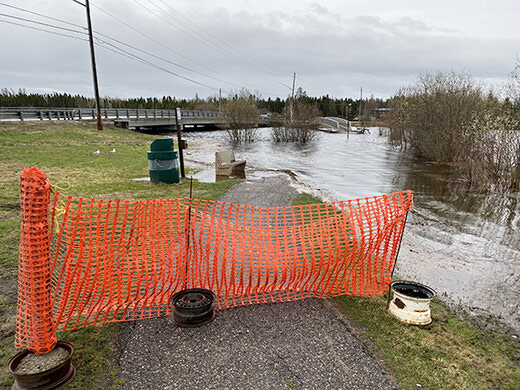 Tuesday, May 17, 2022
A washout on Highway 599, about 10 km south of Pickle Lake last week was just one of several washouts and incidents of flooding of roadways that has occurred throughout the region due to melting snow combined with rainfall...