PAIL Network hosts A Walk to Remember
Tim Brody - Editor
Community members were invited to the Travel Information Centre on June 4 for A Walk to Remember.
Hosted by Pregnancy and Infant Loss (PAIL) Network, the walk provided a space where families who have experienced pregnancy and infant loss could come together and share in an activity in memory of their baby.
"We know that families find these events meaningful and feel less isolated when they can meet others who can relate to their grief," shared Michelle La Fontaine, Program Manager, PAIL Network, in an emailed statement.
Local PAIL Network volunteer Twylla Penner said, "We had resources from PAIL Network at the walk that included pamphlets about the support available from pail network, remembrance flags, bubbles, sidewalk chalk, butterfly tattoos, and information about volunteering."
She added, "If people from the region would like support, there are PAIL Network pamphlets available at local health care providers. It is also available online. PAIL Network provides a variety of regular online group support opportunities that are supportive of all types of pregnancy and infant loss. They also have individual phone support available. There is thought of also starting a local meeting group, if the interest is there."
The event concluded early to due rain. Penner shared, "The rain came unexpectedly at the end of the walk. When it started raining, we thought about the sky crying along with us over the grief of losing our Children."
She said that although the event wasn't as well attended as had been hoped, "The event will keep on going in the hopes that the presence of a pregnancy and infant loss group in Sioux Lookout will support those who have experienced or will experience a loss. Loneliness after a loss is hard."
"PAIL Network has hosted this event in different parts of Ontario, and this year we had 22 walk locations with over 900 families participating," La Fontaine concluded.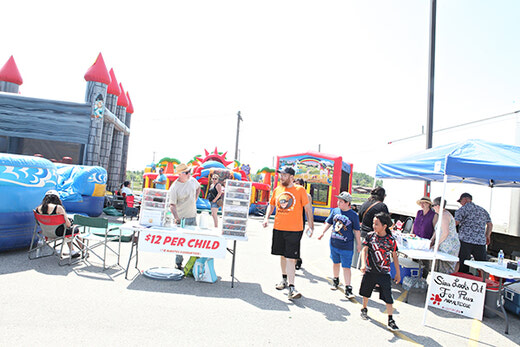 Wednesday, June 14, 2023
A successful partnership between Sioux Looks Out For Paws pet rescue and Fun-tastic Castles.
The animal rescue and Thunder Bay based business partnered June 2, 3, and 4 to present Sioux Lookout FunFest in the parking lot of The Hub Collective...