OPP Report
Summer is here… Wear your safety gear!
(ORILLIA, ON) - With summer now in full swing and adventures abound throughout the province, the Ontario Provincial Police (OPP) will be out on roads, waterways and trails, ensuring Ontario citizens and visitors are wearing safety equipment that is critical to saving their lives.
Over the past five years, hundreds of people of all ages have died in OPP-investigated traffic/marine incidents in which failure to wear safety equipment was a primary cause or contributing factor in their death.
From 2018-2022 (in OPP jurisdictions):

Number of drivers/passengers killed in collisions who did not wear a seatbelt: 279

Number of boaters/paddlers killed in marine incidents who did not wear a lifejacket: 114

Number of drivers/passengers killed in off-road vehicle incidents who did not wear a helmet: 54

Number of motorcyclists killed in motorcycle incidents who did not wear a helmet: 19

"When heading out for a boat ride, a drive, or a paddle or trail ride this summer, please wear your safety gear. Having the protection of a seatbelt, lifejacket or helmet gives you and your family your best chance at surviving a life-threatening situation on roads, waterways and trails. The OPP wants to see everyone have a safe and enjoyable summer."-- Thomas Carrique, Ontario Provincial Police Commissioner
"As people gather this week to enjoy the warm weather, wrap up school activities and celebrate Canada Day, Ontario's roads, trails and waterways may be busier than usual. I encourage everyone to stay alert and use the required equipment to protect yourselves and your families. Seatbelts, helmets and lifejackets save lives!" -- Michael Kerzner, Ontario Solicitor General
"The Canada Day long weekend is a great way to kick off the summer with fun activities for the entire family. If you're heading out, remember to do your part to stay safe when traveling on roads and waterways. Always wear a seatbelt, a lifejacket, or a helmet, where applicable. It's the law and it helps save lives." -- Caroline Mulroney, Minister of Transportation
The OPP is committed to delivering on its Provincial Traffic Safety Strategy, which aims to reduce and prevent injuries and fatalities, and enhance safety on roads, waterways and trails.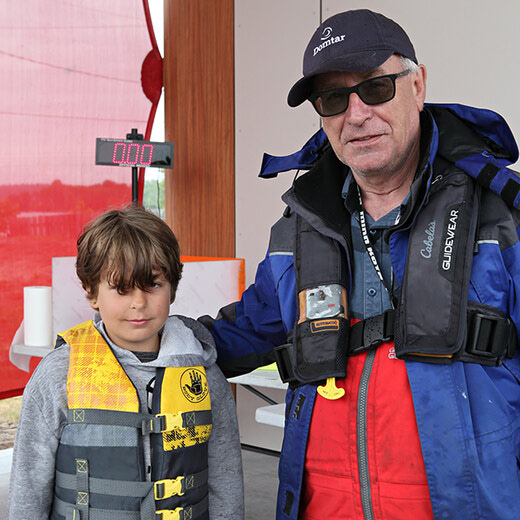 Wednesday, June 28, 2023
Mac Laverty with grandfather Ron Laverty, Reese Sitar, Kendall Egerter, and Jaxson Labelle answer this week's question.